The Hunger Games: Mockingjay Part 1 on DVD
Category:
Blu-ray's and DVD's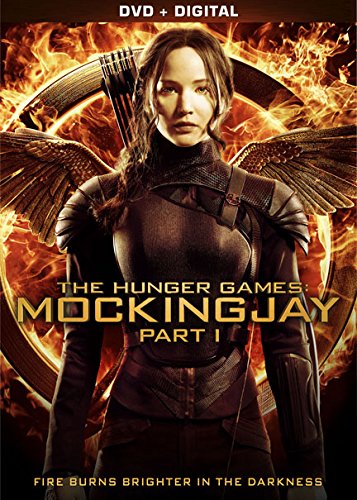 Jennifer Lawrence returns as Katniss Everdeen in this third film in The Hunger Games series. When it was released in theaters in 2014, The Hunger Games: Mockingjay Part 1 was the highest-grossing domestic release of 2014. Now it is available for home entertainment.
This film opens with Katniss living deep inside a bunker in the catacombs of District 13. The rebellion against the Capitol and President Snow (Donald Sutherland) is growing and Katniss has been selected to be the Mockingjay – the symbol of the revolution. Under the direction of the rebel president (Julianne Moore), Katniss is displayed to everyone as the face of the revolution.
Katniss is worried about her friend Peeta (Josh Hutcherson) who is in the Capitol and being used as a pawn by President Snow. Meanwhile, her other friends, Gale (Liam Hemsworth), Haymitch (Woody Harrelson), and Plutarch (Philip Seymour Hoffman) are with Katniss to help her through this difficult time and to formulate a plot against the Capitol.
For those who are not familiar with the story of The Hunger Games, it is important to view the first two films, or read the first two books before tackling this movie. Everything is tied together and each film is a continuation of the last.
The films are based on the novels by Suzanne Collins. Her trilogy – The Hunger Games, Catching Fire, and Mockingjay – have captured the imaginations and hearts of readers around the globe. With the success of the films, the powers that be at Lionsgate decided to make four films instead of three, and this latest is the third of the four movies, basically splitting the final novel into two movies.
The Hunger Games: Mockingjay Part 2 is set for theatrical release November 20, 2015.
Bonus features on this DVD include deleted scenes and a look at the upcoming Insurgent film.
The Hunger Games: Mockingjay Part 1 is filled with the drama of the previous games. It is rated PG-13 for intense sequences of violence and action, some disturbing images, and thematic material.
On a personal note: many scenes in this film remind me of some of the news stories on the nightly news. They are violent and representative of a mindset of pure evil.
About the Author
Francine Brokaw has been covering all aspects of the entertainment business for 20 years. She also writes about technology and has been a travel writer for the past 12 years. She has been published in national and international newspapers and magazines as well as internet websites. She has written her own book, Beyond the Red Carpet The World of Entertainment Journalists, from Sourced Media Books.
Follow her on Twitter
Like her on Facebook