'The Hot Rock' on Blu-ray from Twilight Time
Category:
Blu-ray's and DVD's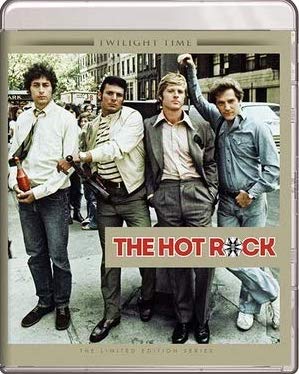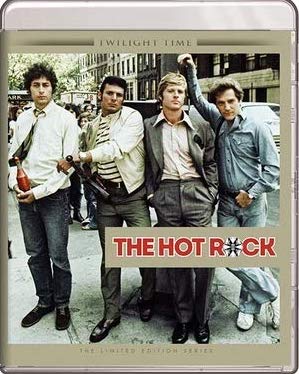 Robert Redford and George Segal head up this 1972 heist film. The Hot Rock is part Ocean's 11, part The Sting, and part Marx Brothers!
Redford is John Dortmunder, an ex-con who cannot stay away from the wrong side of the law. His brother-in-law Kelp (Segal) lines up a big heist and brings John into the plan. They are to steal a special diamond from the museum. To do this they need two more in their gang: Murch (Ron Leibman) and Greenberg (Paul Sand).
The interesting thing about this story is that the diamond is stolen near the beginning of the film. The remainder of the movie is about how they can get it back after it finds its way into several different locations. Zero Mostel is Greenberg's father and attorney. But his parental feelings disappear when he learns of the diamond. Everyone is after this special rock, but where is it?
It's a fun little film but by today's standards it's quite slow-moving. It's also enjoyable to watch these legendary actors when they were very young. Redford just announced his retirement from the business.
With some hokey yet laughable scenes, The Hot Rock is a cute story that will leave viewers chuckling. Every member of the team does a great job. Leibman is laughable as the driver/helicopter pilot, and Sand is hysterical as the thief who swallows the diamond, then loses it in the police station. Yes, the police station.
Bad luck follows this team from the beginning, and after each incident of craziness, Dortmunder gets more and more adamant about finding the stone. While the others might want to give up, he wonders what bad thing will befall them around the next corner. Everything seems to go wrong for these guys. The tagline for the film, "How many times does it take to steal the same diamond?" says it all.
The Hot Rock was nominated for an Academy Award for "Best Film Editing"
The year he made this film, Redford also made The Candidate and Jeremiah Johnson. The next year he would come out with The Way We Were and The Sting.
The new Twilight Time Blu-ray includes a booklet about the film and the actors, and of course, the phrase "Afghanistan Bananistan" which I remember well! The Hot Rock is a cute caper film that involves caper after caper. It's rated PG.
About the Author
Francine Brokaw has been covering all aspects of the entertainment industry for over 25 years. She also writes about products and travel. She has been published in national and international newspapers and magazines as well as Internet websites. She has written her own book, Beyond the Red Carpet The World of Entertainment Journalists, from Sourced Media Books.
Follow her on Twitter