'The Group' now on Blu-ray
Category:
Blu-ray's and DVD's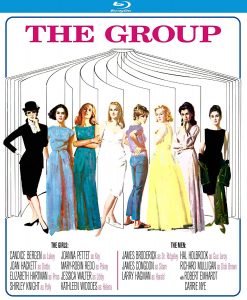 An outstanding cast recreates Mary McCarthy's novel The Group, about eight best friends from college who go on with their lives but still remain very close. Candice Bergen (Lakey), Joan Hackett (Dottie), Elizabeth Hartman (Priss), Shirley Knight (Polly), Joanna Pettet (Kay). Mary-Robin Redd (Pokey), Jessica Walter (Libby), and Kathleen Widdoes (Helena) graduated together in 1933 from an all-girls college. Now they are living their lives, getting married, and having children.
James Broderick, Larry Hagman, Hal Holbrook, and Richard Mulligan are some of the men in their lives. But through it all, it is the women's friendship that is the heart of the story.
At this time in history women were expected to get married, have kids, and basically make that their lives. However many of these women are not conventional. As they each maintain their individual lives, they remain connected as one group. As one of their husband's remarks, he didn't just marry one woman, he got seven others in the bargain.
Bergen was nominated for a Golden Globe for "Most Promising Newcomer – Female." This was her first film. This was only the second film for Hartman. It's fun to see all of these established actors when they were starting out.
On a personal note, I remember reading this novel when I was in college. Mary McCarthy wrote about relationships between women and men. This film is all about those relationships, and the special relationship between these eight women who bonded in college and whose ties bound them together for the rest of their lives.
About the Author
Francine Brokaw has been covering all aspects of the entertainment industry for over 25 years. She also writes about products and travel. She has been published in national and international newspapers and magazines as well as Internet websites. She has written her own book, Beyond the Red Carpet The World of Entertainment Journalists, from Sourced Media Books, is the entertainment correspondent for Good Day Orange County, and has her own TV show, Beyond the Red Carpet, on Village Television in Orange County.
Follow her on Twitter