'The Greek Tycoon' on Blu-ray
Category:
Blu-ray's and DVD's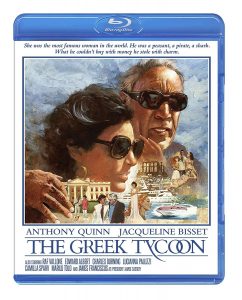 The 1978 film The Greek Tycoon is loosely based on the lives of Jacqueline Kennedy Onassis and Aristotle Onassis.  Jacqueline Bisset plays Liz Cassidy and Anthony Quinn is Theo Tomasis.
James Cassidy (James Franciscus) is a senator when he and his wife Liz meet Tomasis. He is a conniving Greek ship entrepreneur who is grooming his son Nico (Edward Albert) to take over the business and trying to instill his shrewd manipulations in his son who prefers to do business his own way. Flash forward and Cassidy is the President of the United States. Flash forward and Cassidy is assassinated.
Liz is devastated but after a couple years returns to spend some time with Tomasis where to get away from being the widow Cassidy. Together they share some fun times on his yacht and in the islands. His proposal of marriage comes as a shock but it makes sense to both of them.
Unlike James Cassidy, Theo Tomasis is a crude, ill-mannered, overbearing, manipulative man. He knows he is uneducated but has an ego larger than life. He thinks he can get anything and anyone he wants. His way of doing business is not above board. He uses people to his advantage. By marrying the widow of the slain president he manages to get himself out of legal trouble with the government of the United States. His moral compass does not point true north.
The wardrobe worn by Bisset rivals that of Jacqueline Kennedy Onassis. And the music is memorable. The actors, however, do not have a great chemistry. As a matter of fact, the Stinker Awards nominated Bisset and Quinn for the "Worst On-Screen Couple". That aside, the story has some merit and even though it will definitely remind viewers of Jacqueline Kennedy Onassis and Aristotle Onassis, it does have some entertainment value. The scenery is gorgeous with the Greek scenes having been filmed in various locations in Greece.
Included on the discs are alternate opening and ending scenes.
The Greek Tycoon is rated R. There is some nudity, smoking, and language. It is available on DVD and Blu-Ray.
About the Author
Francine Brokaw has been covering all aspects of the entertainment industry for over 25 years. She also writes about products and travel. She has been published in national and international newspapers and magazines as well as Internet websites. She has written her own book, Beyond the Red Carpet The World of Entertainment Journalists, from Sourced Media Books, is the entertainment correspondent for Good Day Orange County, and has her own TV show, Beyond the Red Carpet, on Village Television in Orange County. She is a longstanding member of the Los Angeles Press Club and the Television Critics Association and is accredited by the MPAA.