'The Good Fight' - a spinoff of 'The Good Wife'
Category:
Television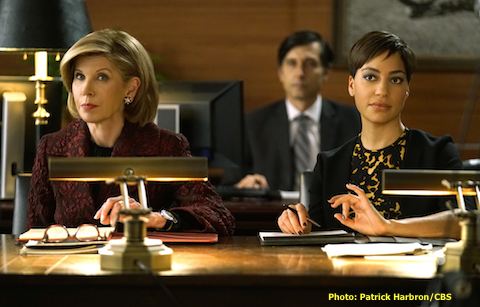 The Good Wife wrapped its seven-season run on May 8, 2016, but the finale was so polarizing that the show creators Robert & Michelle King wrote a letter explaining why they ended with a slap. "Alicia (Julianna Margulies) would slap someone who victimized her at the beginning of the series; and she would be slapped by someone she 'victimized' at the end," the Kings explained this bookend devise. And they left it up to us to imagine who Alicia would become.
When Alicia's education ended with that slap by none other than her mentor/colleague/soon-to-be-partner Diane Lockhart (Christine Baranski), I believe 'the good wife' transformed into 'the free woman.' Alicia wreaked havoc all right, but can you blame her? She tried to be a good girl all her life, but over the course of seven years relentless power struggles at work and home wore her down and eventually her survival instinct kicked in. She had to be free of all the duties and obligations of a wife, mother, and career woman. Call her immoral! Or even compromised! I don't care. I just know she had to untether herself and fly away! She is my phoenix rising from the ashes! Through crosses and losses, Alicia clearly learned her lessons and became tougher, cunning, and more powerful. It's sad, but that's life. No wonder Margulies summed up the finale in these three words: "Satisfying, uplifting, and sad."
The ending was so thought-provoking that psychoanalyzing it kept me busy for quite some time. However, letting go of my favorite show is easier said than done. Sunday nights haven't been the same without it, but Sunday, February 19, 2017 my investment in The Good Wife characters will pay off. Once again, I get to reside in the Kings' domain.
The Good Fight, a spinoff by the Kings, picks up one year after The Good Wife ended, but lives in a very different world than Alicia resided. At a press conference in January, Robert reminded us that The Good Wife debuted and lived during the Obama years. "The world changed on us. And I think this election gave us a spine," confessed Robert. "What was fun was coming to the realization Michelle had this epiphany. What if we send Diane into an all African-American law firm?" Hence, The Good Fight.
The spinoff centers around three female characters of different generations. Diane (Baranski), the liberal feminist power attorney, and Lucca Quinn (Cush Jumbo), tell-it-like-it-is-lawyer and Alicia's confidante in the final season of The Good Wife, are the returning characters. Maia Rindell (Rose Leslie), Diane's goddaughter/protègè novice lawyer, is the new Alicia.
We find Diane and Maia on top of the world at first, but they quickly become poison by association with a Ponzi scheme allegedly ran by Maia's parents. Now that everything that defined Diane and Maia is gone, the privileged white women have no choice but to fight back in order to survive. They join Reddick, Boseman & Kolstad, Chicago's preeminent all African-American law firm, to start over. Lucca, a third year associate at the firm, is brilliant, creative, and cordial enough, but remains an enigma. Is she disoriented without Alicia? What is her agenda? We shall see!
The Good Fight premieres February 19, 2017 on CBS and CBS All Access with subsequent episodes debuting weekly on the streaming service only. The good news is you get to see the first episode on CBS, but the bad news is you don't get to see the rest unless you sign up for CBS All Access subscription.
About the Author
Meg Mimura is a TV critic who actually watches shows zealously in search of human drama worth watching. She is a member of Television Critics Association as well as Academy of Television Arts and Sciences.