'The Good Dinosaur' – Movie Review
Category:
Movies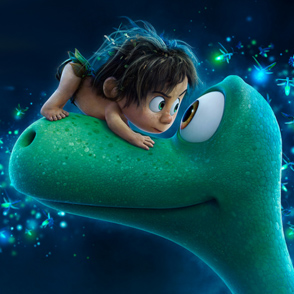 Not since Dino and Bam Bam have a dinosaur and a cave boy been so endearing. The Good Dinosaur is a whirlwind of emotions with two adorable characters at the center.
First of all, everything in this story is backward from what we think of as "normal." Yes, even for an animated feature. The dinosaurs have evolved to be the dominant life forms and the humans are "critters." The dinosaurs talk but the humans don't.
Arlo is the runt of the litter. He has a loving mother and father, and a sister and brother. Arlo is the smallest and the most fearful. They all work on the family farm. One of Arlo's responsibilities is feeding the chickens, however this fellow is afraid of them. He is afraid of everything. Arlo strives to be like his siblings, yet he is just too fearful. His father has faith that he will get through his fears.
After his father dies, this little guy tries even harder to live up to his dad's hopes. When he is inadvertently swept away by the river he ends up a long way away from the farm. This is where he joins with a little orphan cave boy named Spot.
Actually, Arlo and Spot have met before and Arlo blames the little boy for his father's death. But Spot adores his new friend and wants to help Arlo get back home. The two begin the long trek back to Arlo's farm and his family.
Along the way fearless Spot and fearful Arlo encounter some other characters, both good and bad. But their devotion to each other is what saves them and pulls them through all the hardships.
During their adventure, Arlo learns to get through his fears and does what his father told him to do – something bigger that himself; something for another being. The relationship between Arlo and Spot is what entertains audiences. Young and old will delight in the love these two share for each other. Spot's expressions are priceless. He's simply adorable and will steal the hearts of everyone in the theaters.
There are many scenes of peril in the movie, which might be upsetting to some youngsters. And there are some scenes which might not be completely understood by the very young. But all in all, this is a sweet film of love, devotion, and mostly of family and finding one's place in the world.
The animation in the movie is amazing. Not only are the characters enticing, but the scenery is also top notch. Producer Denise Ream explains, "It's an interesting balance between having the slight stylization, but also capturing the realism of nature. The details they've incorporated are stunning. And we've approached it differently—you can see for miles and miles."
"It's the biggest effects film we've done in Pixar history, by far," says effects supervisor Jon Reisch. "Typically, about 30 percent of a film's shots are effects shots. For The Good Dinosaur, it's more than twice that—60 percent of the film, over 900 shots out of about 1500, featured the work of the effects department." There is nonstop action from beginning to end.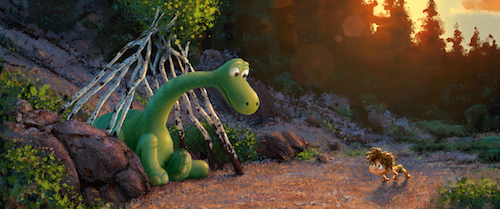 "The Good Dinosaur is one of the most emotional movies we've ever made," says executive producer John Lasseter. "It's really funny and clever, and as the story unfolds, this deep emotion emerges. You fall in love with Spot right along with Arlo. Their bond is so interesting and unique—so different from anything we've ever done. It's a very special movie."
Before the movie the animated short, Sanjay's Super Team. Sanjay is a little boy who loves his super heroes. When his father makes him meditate in front of the Hindu gods, the little boy dreams of them as super heroes. This is a colorful little short.
Disney has several products to accompany this new adventure. There is an adorable plush Spot and several plush Arlos as well as other items.
The bottom line is The Good Dinosaur is a special treat for young and old. It is filled with emotions. The Good Dinosaur is rated PG for peril, action, and thematic elements.
About the Author
Francine Brokaw has been covering all aspects of the entertainment industry for 20 years. She also writes about products and travel. She has been published in national and international newspapers and magazines as well as Internet websites. She has written her own book, Beyond the Red Carpet The World of Entertainment Journalists, from Sourced Media Books.
Follow her on Twitter