'The Founder' on Blu-ray
Category:
Blu-ray's and DVD's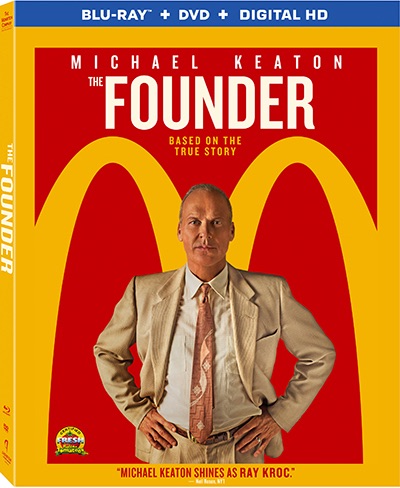 We all grew up with McDonald's. But we don't know the story of this worldwide empire. The Founder is the story of the McDonald brothers and Ray Kroc, the people who gave us fast food hamburgers and delicious French fries.
Ray Kroc (Michael Keaton) was a traveling salesman. At the time he met the McDonald brothers, he was peddling a milkshake maker. He heard about their McDonald's restaurant in San Bernardino, California and had to see it for himself. What he saw took his breath away. It was an ingenious fast food take out eatery created by brothers Dick and Mac McDonald (Nick Offerman and John Carrol Lynch). They had perfected a way of making and delivering fresh hamburgers, French fries, and drinks the way Henry Ford created the automobile assembly line.
Deep in his heart he wanted to be part of this business. He saw an amazing future for McDonald's. So he went into franchising the restaurants with the brothers. They were hesitant because they wanted to keep quality control at its peak and didn't know how they could do that with several locations. But Kroc insured them he would handle everything.
What he eventually handled was the tremendous expansion of McDonald's while at the same time leaving the brothers who started it all, not to mention his wife (Laura Dern), out in the cold.
The bonus features on the Blu-ray combo pack take viewers behind the scenes of the film. With a time-lapse video, they see the actual McDonalds that was used in the movie being built. They also learn more about the production and the cast, as well as the people on which the characters were based.
For decades the McDonald family was waiting for someone to tell the story correctly. This is their story just as much as it is the story of Ray Kroc.
Was Ray Kroc a hero or a villain? He kept the golden arches imagined by the brothers and their family-friendly atmosphere. But he also insinuated himself into the empire so much so that the brothers were swept under the rug. He built the empire on the ideas and hard work of the McDonald brothers. His vision was far greater than theirs, however they deserve just as much praise. They invented the McDonalds restaurants but Kroc brought it to the masses.
Keaton received an Academy Award for his intense performance of the man we all associate with the golden arches.
The Founder is rated PG-13 for brief strong language.
About the Author
Francine Brokaw has been covering all aspects of the entertainment industry for over 20 years. She also writes about products and travel. She has been published in national and international newspapers and magazines as well as Internet websites. She has written her own book, Beyond the Red Carpet The World of Entertainment Journalists, from Sourced Media Books.
Follow her on Twitter