The Fan on DVD
Category:
Blu-ray's and DVD's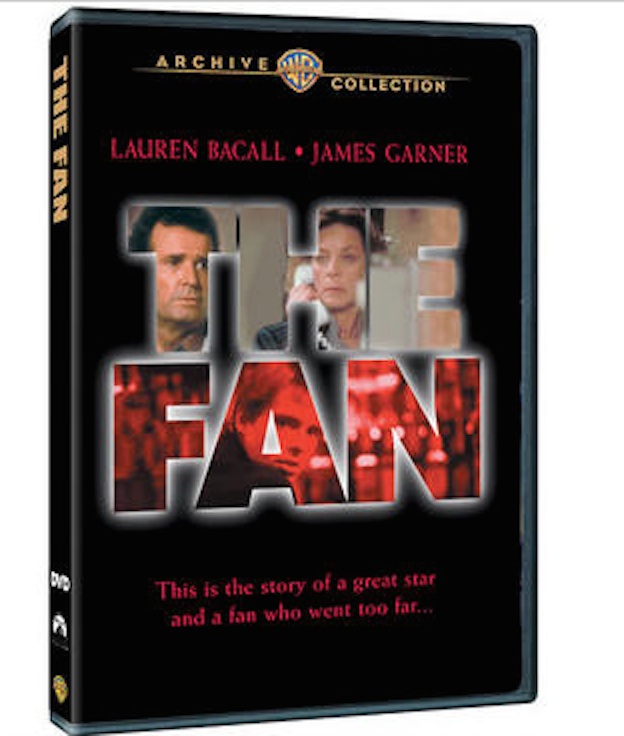 Lauren Bacall is spectacular in this 1981 film. The Fan is a suspenseful and entertaining movie with Bacall heading the cast that includes James Garner, Hector Elizondo, Michael Biehn, and Maureen Stapleton.
As Sally Ross, Bacall turns in a riveting performance. Ross is a famed actress of stage and screen who is still in love with her ex-husband Jake (Garner), although he seems to have moved on from their relationship even though they remain close friends. Ross' trusty personal assistant Belle (Stapleton) guards her boss' privacy and answers all the fan mail.
Douglas Breen (Biehn) has been writing letters to Sally Ross for a long time. He thinks they are friends. His mind conjures up an elaborate fantasy, so when Belle responds to his letters instead of Sally, he gets infuriated and follows up with more letters about how Belle should be fired and how Sally needs to take this matter in hand. To say Douglas is a little bit crazy is an understatement.
Then, his fantasy takes over and he starts dealing with his perceived obstacles on his own. He will do anything for his beloved Sally. He becomes violent and turns his attention on eliminating Belle. Then he goes after others who are close to Sally. That is when the police step in. Inspector Andrews (Elizondo) admires Sally's career and tries to keep her safe, but with a nut on the loose, how safe can she really be?
This is an interesting film because there are several storylines going on throughout the movie. The first is obviously Douglas and his fantasy about Sally Ross and the police investigation. The second is the underlying love story between Sally and Jake. The third is the new play Sally is rehearsing for, which is a musical. There are bits of musical scenes throughout this film as the rehearsals continue through the terror of the danger to Sally and everyone around her.
Marvin Hamlisch wrote two songs for this movie. The film is well done, although many critics panned it. Bacall is her usual wonderful self, and Garner is, well, what can anyone say about James Garner except he is (was) a great actor and, yes, gorgeous.
The Fan is part of the Warner Archive Collection and is made on demand. To order, go to wbshop.com. The movie is rated R.
About the Author
Francine Brokaw has been covering all aspects of the entertainment business for 20 years. She also writes about technology and has been a travel writer for the past 12 years. She has been published in national and international newspapers and magazines as well as internet websites. She has written her own book, Beyond the Red Carpet The World of Entertainment Journalists, from Sourced Media Books.
Follow her on Twitter
Like her on Facebook