'The Eternals' on Disney+, digital and discs
Category:
Blu-ray's and DVD's
Category:
Television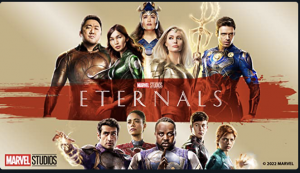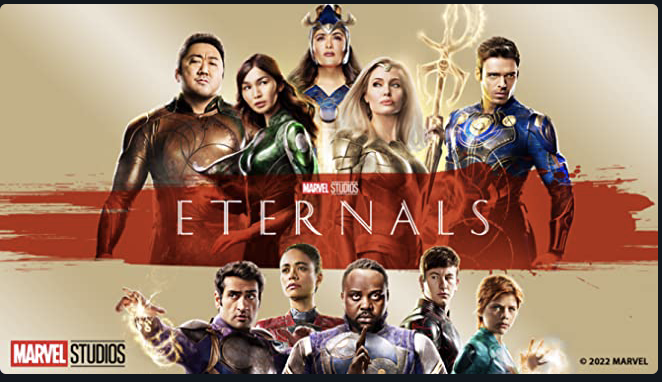 Marvel's Eternals is now available on digital, streaming on Disney+, and will be available on 4K Ultra HD, Blu-ray, and DVD beginning February 15, 2022.
Besides the theatrical film, there is some additional content that includes a behind the scenes documentary looking at these superheroes from the Marvel Comic Universe, a feature about the large group of superheroes that make up the Eternals, deleted scenes, and a gag reel (yes, even superheroes make mistakes). The cast includes Gemma Chan as Sersi, Richard Madden as Ikaris, Kumail Nanjiani as Kingo, Lia McHugh as Sprite, Brian Tyree Henry as Phastos, Lauren Ridloff as Makkari, Barry Keoghan as Druig, Don Lee as Dane Whitman, Salma Hayak as Ajak, and Angelina Jolie as Thena. It is definitely a large cast of superheroes.
The story of the Eternals is that a group of heroes came to Earth at the time of the dawn of man. They came to protect the humans from monster creatures called Deviants. The film begins with this introduction to the story, and then it shifts to modern day where the Eternals have been living among the humans for thousands of years. Thinking that the Deviants were all destroyed thousands of years ago, they are surprised when the creatures return. It again falls on the Eternals to save the world and humanity once again.
Fans of Marvel know about the Eternals, however if you are not familiar with them do not worry. This film explains them and their story. It is filled with amazing visuals to go along with the heroes. As producer Nate Moore said, "We want audiences to discover a corner of the Marvel universe they've never seen before.  We want them to discover a mythology that is a challenging sci-fi movie but also has a human heart. And we want them to meet ten heroes who they hopefully can relate to."
The Eternals comic books were first published in 1976. This movie might be an introduction to the characters for many viewers. The studio is banking on the public embracing the characters and has a second film coming out in the future.
The Eternals is rated PG-13 for fantasy violence and action, some language and brief sexuality.
About the Author
Francine Brokaw has been covering all aspects of the entertainment industry for over 25 years. She also writes about products and travel. She has been published in national and international newspapers and magazines as well as Internet websites. She has written her own book, Beyond the Red Carpet The World of Entertainment Journalists, is the entertainment correspondent for Good Day Orange County, and has her own TV show, Beyond the Red Carpet, on Village Television in Orange County. She is a longstanding member of the Television Critics Association, was a longstanding member of the Los Angeles Press Club, and is accredited by the MPAA. Follow her on Twitter.