'The Edge of Seventeen' is this generation's coming of age film for girls
Category:
Blu-ray's and DVD's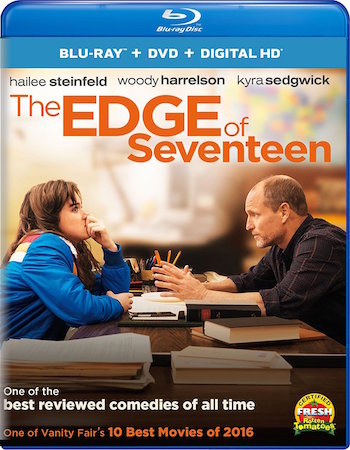 For anyone who felt out of place in high school, or even life for that matter, The Edge of Seventeen is a movie that will strike a chord in your soul. Let's face it, high school was divided between the popular kids and the not-so-popular kids.
Nadine (Hailee Steinfeld) has always been a little different than others. She is basically a loner and doesn't make friends easily. She's intelligent, perceptive, and sensitive. She is also uncomfortable in her own skin. She simply cannot find herself or her place in life. Depression often takes over and she cannot see any daylight in her future.
Her brother Darian (Blake Jenner) on the other hand is a popular outgoing jock with plenty of friends. They are like night and day.
Then when one day Nadine meets Krista (Haley Lu Richardson) and they become best friends for life. Well, at least from the time they're about 7 to 17. It's then when Krista starts dating Darian and the friendship between Nadine and Krista hits rock bottom.
Getting through the days is difficult. Nadine confides in one of her teachers, Mr. Bruner (Woody Harrelson) who is the one person she trusts to talk with. Her mother (Kyra Sedgwick) is not sympathetic and since her father died, Nadine is even more lost in life.
It's as though she is adrift on the ocean. What is going to happen next? Will she find some peace and be comfortable with herself?
High school is difficult and adolescence adds to that. This is a story that will have more appeal for girls than boys. It delves into the emotions, hormones, and problems of adolescent girls as they transform into womanhood. It definitely struck a chord with me. I felt deeply for Nadine and although it has been decades since I was her age, I remember trying to fit in while trying to be myself. It's definitely a difficult time in life and portrayed beautifully by Steinfeld. This young actress is a rising star and has a long career in front of her.
Did you have a teacher you felt you could confide in and trust? Harrelson portrays that man with plenty of appeal.
The film is steeped in teenage drama but sprinkled with some cute and funny scenes. The movie is available in a Blu-ray Combo Pack and a single DVD. Bonus features include a gag reel and some deleted scenes.
The Edge of Seventeen is this generation's high school coming of age movie. It's rated R for sexual content, language, and drinking involving teenagers.
Check out one deleted scene here.
About the Author
Francine Brokaw has been covering all aspects of the entertainment industry for over 20 years. She also writes about products and travel. She has been published in national and international newspapers and magazines as well as Internet websites. She has written her own book, Beyond the Red Carpet The World of Entertainment Journalists, from Sourced Media Books.
Follow her on Twitter