'The Donna Reed Show' seasons 1-5 on DVD
Category:
Blu-ray's and DVD's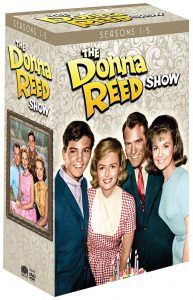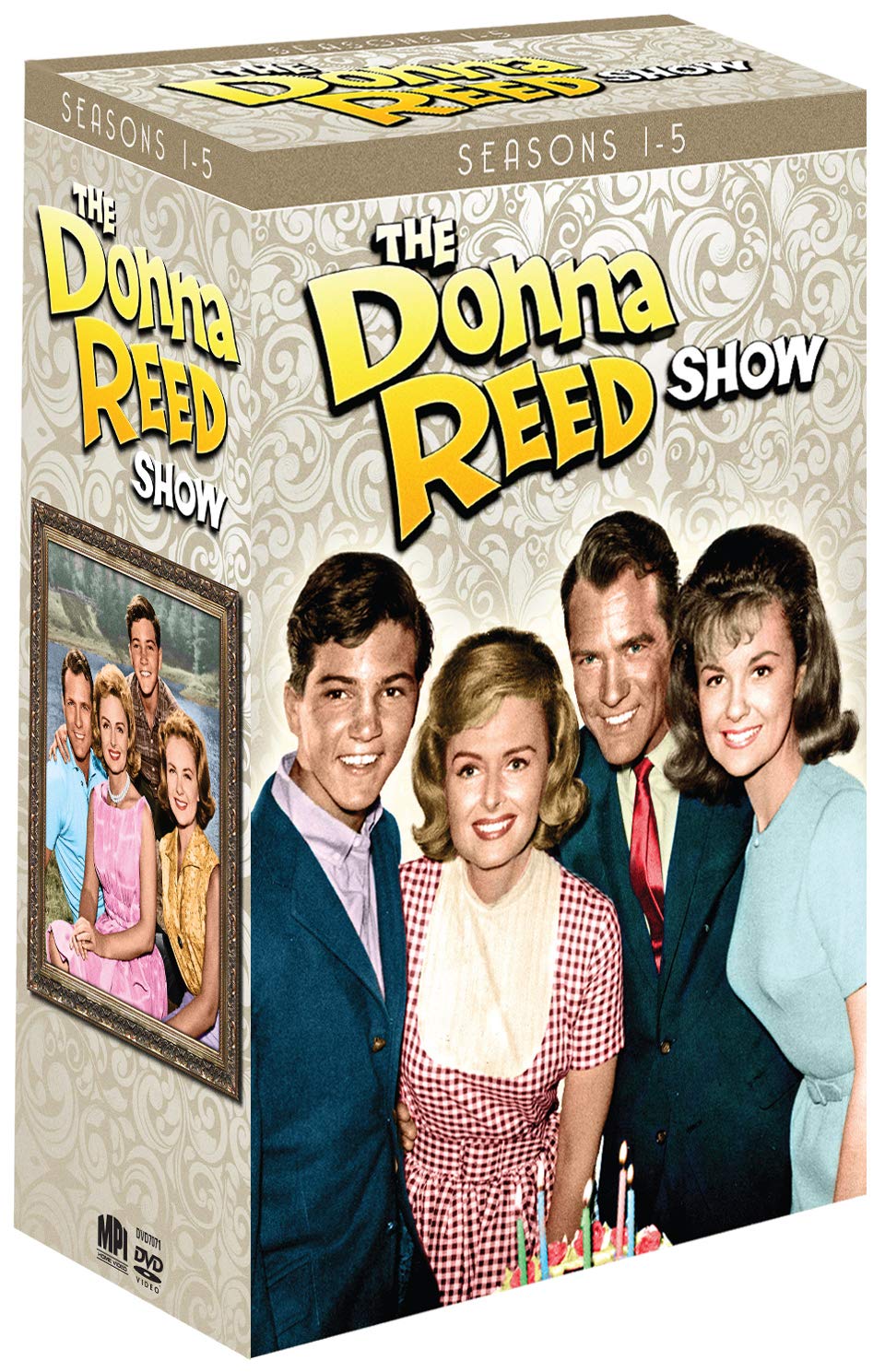 The Donna Reed Show ran from 1958-1996. The first five episodes are now available in a DVD box set.
Reed played Donna Stone, a 1950's/early 60's homemaker who prepared sack lunches for her kids and wore a dress and pearls to vacuum. This was a time when women always wore dresses and men always wore suites and ties. Carl Betz played her pediatrician husband Dr. Alex Stone. Shelley Fabares played teenage Mary and Paul Petersen played her younger brother Jeff. Later they added Petersen's real-life sister Patty to their family as Trisha Stone, a young orphan they adopted.
This was a wholesome family with some pretty mundane problems. The show was exactly what post war families wanted to see. It was centered on a loving family and there were no drugs, foul language, or sexual situations depicted. The characters were loveable. Women fell in love with Betz and young girls had a fascination with Petersen, while young men fell head over heels for Fabares.
Petersen and Fabares later joined with actor/singer James Darren to record records as a cute threesome. Fabares had a hit single with "Johnny Angel."
Donna Reed won the 1954 Oscar for her performance in From Here to Eternity. She took over the role of Miss Ellie Ewing in the final season of the hit TV series Dallas. In 1946 she played opposite James Stewart in It's a Wonderful Life.
Carl Betz moved from playing Dr. Alex Stone to playing Clinton Judd for two seasons in Judd for the Defense. He then took some supporting roles in several other TV shows.
Bob Crane's break came with The Donna Reed Show. Then in 1965 he took on the character of Colonel Hogan in Hogan's Heroes. Like Betz, Crane went on to minor roles in several series.
Shelley Fabares' big break came with The Donna Reed Show. She added another TV series to her resume in 1972-1974 in The Brian Keith Show, then another in 1976 with The Practice. In 1978 she entered the cast of One Day at a Time. Her second big series came in 1989 when she took the role of Christine Armstrong in the sitcom Coach. She is currently married to actor Mike Farrell.
After The Donna Reed Show Paul Petersen's career was not as prolific. He is still acting however perhaps his biggest claim to fame, after The Donna Reed Show, is his founding of the child actor group "A Minor Consideration," a non-profit foundation to help young entertainers.
The Donna Reed Show was the one and only acting gig for Patty Petersen.
This five-season box set includes many bonus features. There are old commercials, previews of other old sitcoms, and some new featurettes with Fabares and Paul and Patty Petersen. Fabares discusses the audition process. She had been acting and modeling for years and got the gig of Mary Stone when she was 14. She says she worshipped Reed and after the show they remained close.
Paul Petersen explains that his mother got him into show business. He was an original Mousketeer but was fired due to unbecoming actions. Paul was 12 when he landed the role of Jeff Stone and 20 when the show ended. Viewers saw Fabares and Petersen grow up before their eyes.
Paul discusses the respect and appreciation by Reed and Betz of the craft and skills in the business. He also discusses the professionalism and caring of both Reed and Betz. Another point brought up by the now-veteran actor is that today's television is absent of the old values that were present in the shows in the 50s and early 60s. And at that time there were only 3 networks with 39 episodes per season.
A featurette has Petersen and Fabares reminiscing about their experiences on the show and what they learned from Donna Reed. They joked about Paul's calling Shelley "CCOSD" which stood for "Copy Cat of Sandra Dee," who was beloved by both Fabares and Petersen.
And the final new featurette has both Paul and Patty Petersen discussing the "great times" they had making the show. When Patty joined the cast Paul was 18 so he was able to serve as her guardian. The two had some fun times working together.
If you love old sitcoms with wholesome stories and characters that will seem a bit more relaxed than today's shows, you have to get this set. It is definitely a blast to the past!
About the Author
Francine Brokaw has been covering all aspects of the entertainment industry for over 25 years. She also writes about products and travel. She has been published in national and international newspapers and magazines as well as Internet websites. She has written her own book, Beyond the Red Carpet The World of Entertainment Journalists, from Sourced Media Books, is the entertainment correspondent for Good Day Orange County, and has her own TV show, Beyond the Red Carpet, on Village Television in Orange County.
Follow her on Twitter