'The Devil Wears Prada' 10th Anniversary Edition
Category:
Blu-ray's and DVD's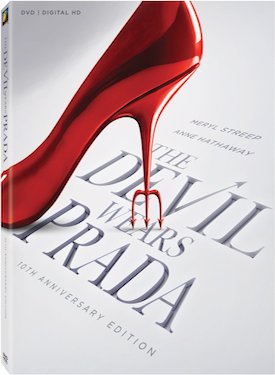 Meryl Streep is the quintessential "boss from hell" in this hit 2006 movie. Anne Hathaway is wonderful as the wide-eyed college graduate with dreams of being a journalist. Together they make The Devil Wears Prada a memorable film.
Andy (Hathaway) is the girl next door. She isn't into fashion at all. She is just trying to get her first job in journalism. So when she is hired by Runway magazine to be the assistant to the no-nonsense editor Miranda (Streep), she sees this as a step to her ultimate goal. Little does she know that her life will be turned upside down as she goes from a fish out of water to the perfect assistant whose knowledge of fashion and designers would rival any A-lister.
Andy initially scoffs at all the hubbub about fashion. After all, her goal is to write about things that matter to the world. But Miranda insists fashion matters just as much as a garbage strike or any such thing. After getting off to a rocky start, Andy decides to dig in for the long haul and transforms herself into the typical Runway employee, complete with a new hairstyle and a wardrobe that would turn any fashionista green. Actually, it does. Emily (Emily Blunt) lives and breathes fashion and is Miranda's first assistant. She is exasperated by Andy but soon becomes an ally of this woman who is learning about the fashion journalism field from the bottom up.
The question Andy must ultimately face is whether she is compromising herself and her dreams to prove herself. Yes, she enjoys looking fabulous. Yes she has mastered the job of being an assistant to the boss from hell. Yes she is learning everything about fashion journalism. But is she following her dream?
Bonus features on this DVD include a look at how the screenplay was reimagined from the book on which it was based. The book was a rather comical look at the fashion industry and the filmmakers wanted it to be "more respectful" to the characters. Another featurette looks at fashion in NYC. Anyone who knows Sex and the City knows fashion is important in this city. There is a look at the costume designer on this film, Patricia Field, who was also responsible for the fashion on that popular series.
The movie has a cameo by legendary designer Valentino, and a featurette discusses this coup for the filmmakers. His appearance "legitimized" the movie. And the final featurette focuses on how demanding bosses can be, and how many hoops they put their assistants through.
Ten years ago The Devil Wears Prada infatuated fashionistas everywhere with the amazing wardrobe, and also brought up the theme of demanding bosses. Streep, Hathaway, and Blunt proved to be an entertaining cast. It is just as entertaining, funny, and enjoyable today.
The Devil Wears Prada 10th Anniversary Edition is rated PG-13 for some sensuality. It is also available on Blu-ray.
About the Author
Francine Brokaw has been covering all aspects of the entertainment industry for 20 years. She also writes about products and travel. She has been published in national and international newspapers and magazines as well as Internet websites. She has written her own book, Beyond the Red Carpet The World of Entertainment Journalists, from Sourced Media Books.
Follow her on Twitter