'The Crew' comes to Blu-ray and DVD
Category:
Blu-ray's and DVD's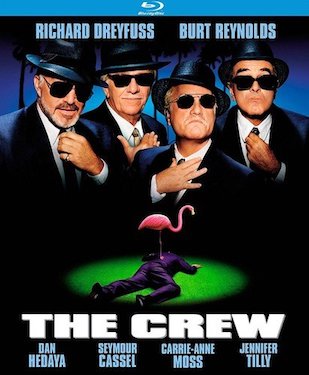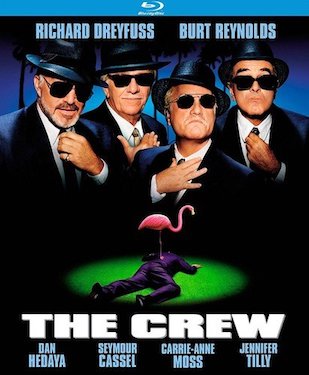 An incredible cast and a whacky story combine in the 2000 film The Crew. Richard Dreyfuss, Burt Reynolds, Dan Hedaya, and Seymour Cassel play senior citizens who have retired to Miami. But these aren't your ordinary senior citizens. They are former mobsters.
Bobby Bartellemeo (Dreyfuss), Joey Pistella (Reynolds) Mike 'The Brick' Donatelli (Hedaya), and Tony 'Mouth' Donato (Cassel) were a big deal in New Jersey, back in the day. But now they are simply old codgers making their way through their golden years with a simple lifestyle and their memories of their past.
When they learn they will not be able to afford the higher rent in their apartment building, they devise a plan to make the residence less than desirable for the other tenants and future tenants. What do retired mobsters do to scare away others? They set up a murder in the lobby. But these guys are not evil. They are really nice and do not want to hurt anyone. All they want to do is to stay in their homes.
So, these good-hearted former gangsters decide to stage a murder by taking a corpse from the morgue and shooting it to make it look like a murder. The thing is, they are so nice now they have a hard time shooting a corpse. But once the deed is done (accidentally), their desired result occurs. They get to stay in their home – with a rent deduction. After all, who would want to live in a place where a gruesome murder happened?
Everything is looking up for this group until they learn the corpse was a former big-time crime boss. Then everything hits the fan. Soon the gang is neck deep in mob retaliation and even deeper in another potential crime.
Then a new hitch comes into their situation. Bobby's long-lost daughter turns out to be the lead detective on the case. Will this madness never end? The crew keeps getting deeper and deeper into this farcical dramedy.
This is a whacky story of former bad guys going good and who are trying to keep the peace in their town.
Lainie Kazan and Jennifer Tilly co-star along with Carrie-Anne Moss, Jeremy Piven, and Miguel Sandoval.
The Crew is rated PG-13 for sexual content, violence, and language.
About the Author
Francine Brokaw has been covering all aspects of the entertainment industry for over 20 years. She also writes about products and travel. She has been published in national and international newspapers and magazines as well as Internet websites. She has written her own book, Beyond the Red Carpet The World of Entertainment Journalists, from Sourced Media Books.
Follow her on Twitter