The Cobbler – Movie Review
Category:
Movies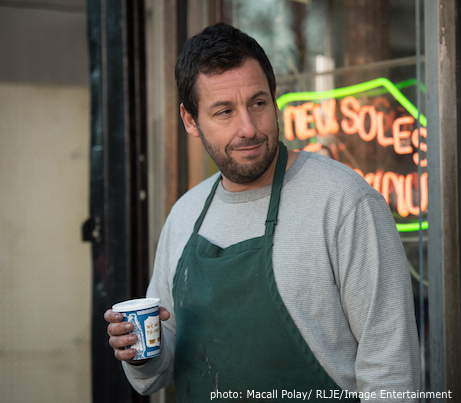 Adam Sandler stars in this intriguing story of a man who is able to literally walk in another man's shoes. The Cobbler also stars Steve Buscemi, Dan Stevens, Dascha Polanco, Melonie Diaz, Ellen Barken, and Dustin Hoffman.
Sandler is Max Simkin, a cobbler in a lower east side New York shop that has been in his family for four generations. He is frustrated with his lot in life and wonders if he should be doing something else. Then one day he discovers a secret. The old out-of-date stitching machine, that is in the basement of the shop, is magic. When Max puts on a pair of shoes stitched using that machine, he is transformed into the body of the owner of the shoes.
This is a change of pace for the man who, until now, felt trapped in his life. He gets to try on another man's life, literally. This gives him some adventure and an interesting perspective on other people.
Max also discovers plenty of secrets about the men into whose shoes he steps. And in discovering secrets about some of his customers, he stumbles upon a deadly plan.
Sandler is fun to watch as he switches from one man to another. Dustin Hoffman is a treasure in this film. While the show has some funny aspects, it is more of a drama filled with plenty of fantasy elements. After all, a magic stitching machine is definitely fantasy.
Max is a character that audiences will enjoy seeing transform from a frustrated man into someone with spunk and who finds his true purpose in life. The final scenes are what pull everything together and leave room for more however I am told there aren't any plans in the works for more of Max Simkin.
Who hasn't wondered what it would be like to step into someone else's life for a sneak peek? A sweet, sentimental scene involves Max granting his mother's one wish.
The Cobbler is rated PG-13 for some violence, language and brief partial nudity.
About the Author
Francine Brokaw has been covering all aspects of the entertainment business for 20 years. She also writes about technology and has been a travel writer for the past 12 years. She has been published in national and international newspapers and magazines as well as internet websites. She has written her own book, Beyond the Red Carpet The World of Entertainment Journalists, from Sourced Media Books.
Follow her on Twitter
Like her on Facebook