The Christmas Secret on Hallmark Movies & Mysteries
Category:
Television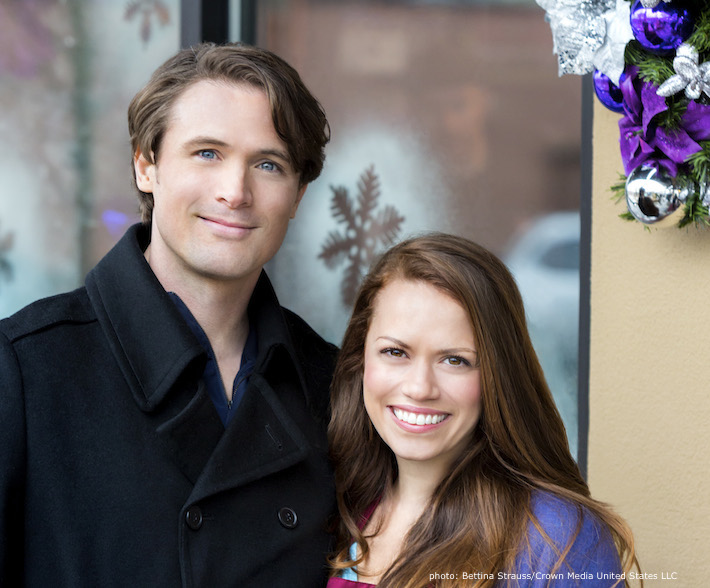 The Christmas Secret is a charming holiday film filled with everything viewers want in a warm and fuzzy Christmas movie. It has drama, some chuckles, mystery, and a lot of Christmas magic.
Christine Eisley (Bethany Joy Lenz) is a divorced mother of two who recently moved to the quaint town of Wilsonville, Vermont to start a new life away from her badgering former husband who causes nothing but trouble and has yet to pay a cent in child support. One day on the way to work, Christine and her kids witness a car crash. With no one around, Christine runs to the aid of the victim and gives her life-saving CPR.
Because of the delay getting to work, Christine loses her job but manages to find another within the hour. She goes to work for Betty (Nicola Cavendish), the local baker who is a kind and caring woman. So, now that she has a new job, Christine still has to worry about her home being foreclosed upon and her ex-husband petitioning the court for custody of their children. And on top of all of that, she thinks a man is spying on her.
Jason (John Reardon) has come back home to Wilsonville for the holiday to help his grandparents with their store. Through several incidents of misunderstanding, Christine believes Jason is spying on her for her treacherous ex-husband. The two form a bond once Christine realizes he is not informing on her, yet there is still a little problem of misunderstanding. Jason thinks her name is Rosemary and Christine doesn't tell him the truth.
With the holiday quickly approaching, Christine wonders how she can afford the presents her kids have chosen, how she can afford to pay her rent, how she can keep her children, and what in the world happened to the precious locket she lost along the way. And, if that isn't enough for a movie plot, there is the fact that Jason's step-grandmother is the woman Christine saved with CPR. All of these storylines weave their way through this heartfelt holiday movie.
The Christmas Secret is based on the bestselling novel by Donna VanLiere. "Films based on bestselling novels entertain and resonate with our viewers and we're very fortunate to bring to Hallmark Movies & Mysteries The Christmas Secret, based on the beloved book by Donna VanLiere," said Michelle Vicary, Executive Vice President of Programming, Crown Media Family Networks. "Building upon the success of last year's highly popular, 'MOST WONDERFUL MOVIES OF CHRISTMAS' campaign, The Christmas Secret is a special addition to our expanding library of classic holiday films."
There is plenty of charm in this heartwarming story that will leave viewers with a smile on their faces and a feeling of satisfaction in their hearts. The Christmas Secret premiers Sunday, December 7, 2014 on Hallmark Movies & Mysteries.
About the Author
Francine Brokaw has been covering all aspects of the entertainment business for 20 years. She also writes about technology and has been a travel writer for the past 12 years. She has been published in national and international newspapers and magazines as well as internet websites. She has written her own book, Beyond the Red Carpet The World of Entertainment Journalists, from Sourced Media Books.
Follow her on Twitter
Like her on Facebook