The Christmas Ornament on Hallmark Channel
Category:
Television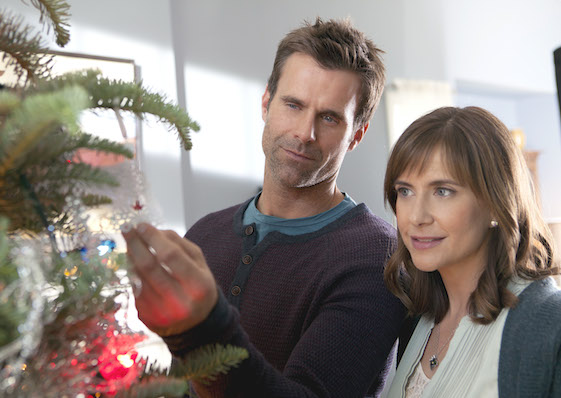 Kellie Martin and Cameron Mathison star in this Hallmark Channel original movie about love, loss, and life. The Christmas Ornament is a story about letting go of the past and embracing the future.
Kathy (Martin) is a young widow struggling to keep her bike shop afloat. Dream Cycles was her husband's store and his dream. Now that he is gone, Kathy feels the strain of keeping everything the way he would have wanted it to be. The thing is, her life is on hold. She is having a hard time finding a balance between the past and the present.
Tim (Mathison) owns a Christmas tree lot. He and Kathy strike up a friendship that goes beyond anything either of them expected. For the first time since her husband's death Kathy is starting to think about her own life. Tim helps her realize that the bike shop is not what she wants to do with her life and she is trying to keep her husband's memory alive through the things he loved. But, as he points out, her husband also loved her and would not want her to be unhappy, and she's obviously not happy with the bike shop.
Kathy idolizes the memory of her husband, but slowly figures out how to merge old memories with new beginnings. This is a sentimental story with a happy ending. What else? It's a Christmas movie after all, and a Hallmark Channel movie at that. So, viewers can expect a sweet, sensitive story that will leave them feeling positive.
The twist is the Christmas ornament, which I won't spoil for viewers by divulging its little secret. You'll have to watch the show for that.
The Christmas Ornament premiers November 16, 2013 on Hallmark Channel.
About the Author
Francine Brokaw has been covering all aspects of the entertainment business for 20 years. She also writes about technology and has been a travel writer for the past 12 years. She has been published in national and international newspapers and magazines as well as Internet websites. She has written her own book, Beyond the Red Carpet: The World of Entertainment Journalists, from Sourced Media Books.
Follow her on Twitter
Like her on Facebook