'The Carey Treatment' is a chilling and timely tale
Category:
Blu-ray's and DVD's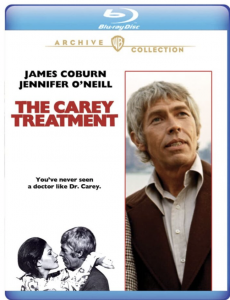 Even though The Carey Treatment was produced in 1972, it is a chilling reminder of what life was like before Roe vs. Wade. Dr. Peter Carey (James Coburn) is a pathologist in Boston. He recently relocated to this hospital where his friend Dr. Tao (James Hong) works. When the 15-year-old daughter of the head of the hospital dies due to an illegal abortion, Dr. Tao is arrested for the murder. He performs abortions illegally but denies this one. So Carey takes it upon himself to turn sleuth and find out what really happened.
Botched abortions were not uncommon when they were illegal and many women – and girls – died due to medical hacks who professed to be able to conduct the procedure. But this time Carey delves deep into the murdered girl and her friends and even his colleagues to get to the bottom of this horrendous act.
Upon arriving in Boston Carey immediately meets Georgia (Jennifer O'Neill), the hospital dietitian. They start a relationship that is only a secondary part of the film. The main concentration of The Carey Treatment is this doctor determined to clear his friend and shine a light on the horrible outcomes of illegal abortions.
Whether viewers are on the side of legal abortions or not, this is an interesting story that brings the debate front and center. No matter if the surgery is legal or not, women will always seek out this procedure and by going to someone not fully qualified they can end up in the morgue.
James Coburn has a long list of A-list films to his credit, among them are The Great Escape (1963), Charade (1963), Our Man Flint (1966), The President's Analyst (1967), Harry in Your Pocket (1973), Midway (1976) and many more. His final role was an episode of the 2002 TV series Arli$$. Coburn passed away in 2002, having taken home the Oscar in 1999 for his supporting role in Affliction.
Jennifer O'Neill first caught the attention of moviegoers in the 1971 film Summer of '42. She has several more film credits as well as TV credits.
Legendary director Blake Edwards directed The Carey Treatment. Fans can purchase the Blu-ray at the Warner Archive Amazon Store or online retailers where DVDs and Blu-rays are sold. The movie is rated PG.
About the Author
Francine Brokaw has been covering all aspects of the entertainment industry for over 25 years. She has been published in national and international newspapers and magazines as well as Internet websites. She has written her own book, Beyond the Red Carpet The World of Entertainment Journalists, is the entertainment correspondent for Good Day Orange County, and has her own TV show, Beyond the Red Carpet, on Village Television in Orange County. Follow her on Twitter.