The Bulloch Family Ranch on UP
Category:
Television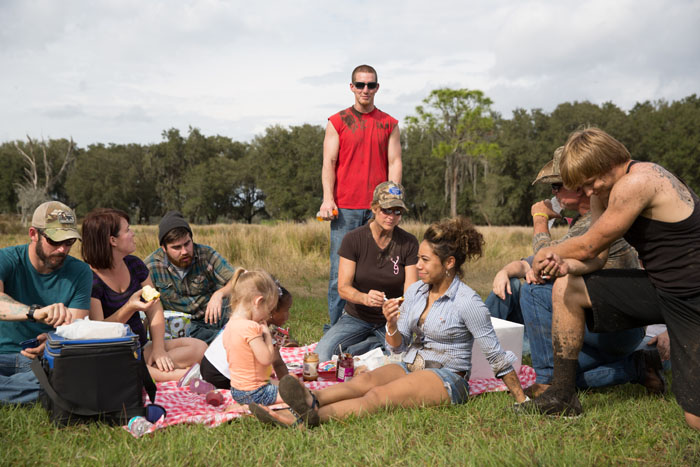 When Bulloch Family Ranch returns for its second season on February 26, viewers who have never seen the show will be intrigued by these people and those who have followed the first season are in for some new experiences. The premise of the show focuses on a working class couple who have devoted their lives to helping others. They bring troubled young adults into their home in hopes that they will have a positive impact on them and they can put them on the right path. Sometimes they succeed and sometimes they don't.
Rusty and Julie Bulloch have a couple of their own biological children, but are "parents" to over 30. These kids join the family at their ranch and are given responsibilities and above all, love and encouragement. The generosity of the Bullochs is amazing and they deeply feel concern for those they take in. When some of their "kids" strays off the wrong path in life after leaving the ranch, they often return for a second helping of Bulloch love and guidance.
Recently Rusty, Julie, and their two children Brodie and Amanda met with journalists to discuss their show and their lives. For the past 18 years they have been "fostering" kids and are truly dedicated to them. "We can help these kids," Julie stated with conviction. "It's not something that we were trained in. It's just common sense."
"We both had good parents," Rusty chimed in. "Our parents really were probably a guiding part that they didn't know of. Also, being a youth pastor, I learned a lot doing that, and trust me, we pray a lot.

During their stay on the ranch, the kids have chores like everyone in the family. "Mostly, when it comes to that, no one wants to clean stalls, the horses' stalls. It doesn't smell good, and it's not exactly sanitary. So that's probably the last thing that everyone out there wants to do. People would rather mow the yard, obviously, but it has to be done, and they know that. So it gets done whether they enjoy it or not, I guess you could say," Brodie explained. "And it's everything from building a fence to mowing to dragging the pastures," Rusty added. "You know, the guys, they do a little bit more of the physical work, and what few girls we've had, they help out a lot around the house and take care of feeding the horses and stuff like that. So it doesn't matter if you like doing it. You've got to do it."
That said, the kids on the ranch (most of them are young adults) have responsibilities and get the support and love they otherwise would miss in their lives. This family is an inspiration to all the viewers. They love helping others and have proven it over and over again. True, some of the kids have not led exemplary lives after leaving their care, but others have. What matters most is that the Bulloch's try.
Bulloch Family Ranch Season Two premiers Wednesday, February 26, 2014 on UP.
About the Author
Francine Brokaw has been covering all aspects of the entertainment business for 20 years. She also writes about technology and has been a travel writer for the past 12 years. She has been published in national and international newspapers and magazines as well as Internet websites. She has written her own book, Beyond the Red Carpet: The World of Entertainment Journalists, from Sourced Media Books.
Follow her on Twitter
Like her on Facebook