The Bridges of Madison County on Blu-Ray
Category:
Blu-ray's and DVD's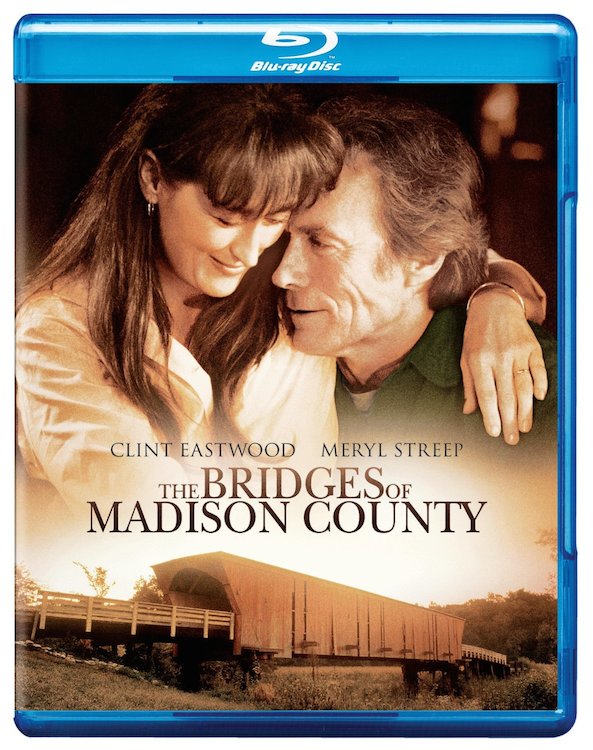 Before the 1995 film was produced, this story captured the hearts of readers with the novel written by Robert James Waller. When The Bridges of Madison County was made into a movie, even more people experienced this romantic adult love story, which has appeal to both men and women.
The Bridges of Madison County is now available on Blu-ray and just in time for Mother's Day, hint, hint. This beloved old- fashioned romantic movie stars Clint Eastwood (who also directed) and Meryl Streep as two people from very different backgrounds who meet and for less than a week experience a wonderful love that lasts them the rest of their lives, even though all they had were a few precious days together.
The bonus feature is an amazing "making of" documentary with the actors and filmmakers. The transition from best-selling novel to screenplay took many incarnations, but as fans of the film know, the final product works very well.
At the time they made this movie, Eastwood was about 65 years old and Streep was around 45. This definitely bucked the way society and the film business was heading at that time. While many in the business wanted a younger actress, Eastwood was adamant that he wanted Streep. For the story to work, the two characters had to be middle age.
"I like the storyline" Eastwood states. He liked that it was about two outsiders who got together in mid America. And back in the sixties, when the story took place, sacrifices had to be made and people didn't have it all, as they do today. That sacrifice is what makes the story so heartening – or disheartening – to viewers. But at the core of the decisions the characters make is their true and very deep love for each other.
The film is described as "a timeless story about a human heart." Behind the story and the incredible acting is a mesmerizing soundtrack. The love theme, "Doe Eyes" was written by Eastwood and is a haunting yet sweet song that is not only poignant, it is also uplifting.
This beautiful and timeless movie was filmed in only a month. "I'm decisive," states Eastwood. And Streep enjoyed his laid-back style of filming. Others on the set saw their "instant chemistry" which helped in making the movie as memorable as it is.
This story of a Italian war bride in the 1960s living on a farm in the middle of America who is frustrated with her life and unfulfilled dreams, and a photographer from National Geographic Magazine who is worldly yet sensitive and caring, has touched the hearts of millions of viewers. As they find out, love does not conquer all. But having had those few days together, filled with passion and emotion, they were then able to face the rest of their lives with the memories of those days to comfort them.
The Bridges of Madison County is rated PG-13 for some sexuality and brief strong language.
About the Author
Francine Brokaw has been covering all aspects of the entertainment business for 20 years. She also writes about technology and has been a travel writer for the past 12 years. She has been published in national and international newspapers and magazines as well as internet websites. She has written her own book, Beyond the Red Carpet The World of Entertainment Journalists, from Sourced Media Books.
Follow her on Twitter
Like her on Facebook