The Brady Bunch – together again
Category:
Television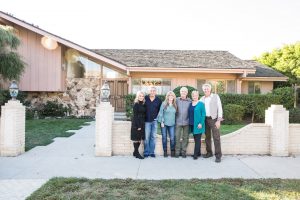 From 1969-1974 viewers were engaged in the lives of The Brady Bunch. Carol (Florence Henderson), Mike (Robert Reed), and their blended family, Marcia (Maureen McCormick), Jan (Eve Plumb), Cindy (Susan Olsen), Greg (Barry Williams), Peter (Christopher Knight), and Bobby (Mike Lookinland), along with their devoted housekeeper Alice (Ann B. Davis), entertained television viewers with their antics, family drama, and 70s clothing. The adults have all passed away, however the six "kids" are still around and recently met with the media to reflect on their past and the renovation of the iconic Brady house for HGTV.
"I think when they approached me about it what resonated with me the most was that it was a different take on Brady," Plumb said about this latest project. "They weren't asking us to come back and play 'Brady Bunch' characters again. It was let's explore what the house would be like if we could make it in real life, and please help us do that, and I started watching all the HGTV shows, and I went this is going to be good."
Maureen McCormick explained, "For me, I always look at each project on its own and see if it resonates with me as something that would be real and just good, and when I heard about this, I'm a huge fan of HGTV and all the shows that they do, and I talked with the people, and I just felt like they had a love for this project, and I felt like this would be a really good gone to be involved with, and I was very excited in getting back together with everyone. It's been a really long time since we've all been together and working together, and it's just been so beautiful to be a part of this."
"We were right in thinking that this was the right thing to do, because it's proven to be a path with heart," Olsen added.
The cast did not know the location of the actual house used for the exterior shots for many years. When he took on this project, Knight explained, "I think one of the most interesting aspects of working on this project was learning just how connected the audience was to this house. But we had no recollection of it. I mean, it was placed as an establishing shot into the show. And like I said, I didn't know where it was and everybody else, you know, nobody worked there. And I don't think anyone else during the period the show was being filmed knew where this house was."
Williams told a funny story about being in the actual house years ago. "After our original show was cancelled, I was invited by a mutual friend for a lunch in the Valley. And I went into the house and we're having lunch and they're all looking at me and laughing. 'Doesn't this remind you of something?' And I'm looking around going, 'No.' They said, 'Well, don't you know where you are?' And I said, 'No.' They said, 'Well, you're in the Brady house'." And I said, 'No.' They had to walk me back outside to look at the photograph that we see on television for me to make the connection because the inside resembled it not at all."
"I had such an affinity for this house," McCormick chimed in, "just because it's weird but in some sort of a way I'm a fan of it just like America I think loves it. Like, I have that same love for this house and when I was told that I could be a part of this and that they were going to really let us demolish things and then rebuild them, I was like, 'Oh my gosh, the chance of a lifetime.'"
The six "Brady" kids did plenty of work on the renovation of the house, although they were carefully supervised by professionals and those in the HGTV family like Jonathan and Drew Scott, Lara Spencer, and others. But yes, in case you are wondering, the six actually did physically take part in the renovation process. And everyone hunted extensively for items from the 1970s to replicate the interior as closely as possible to the set used on the show.
September 26 will be the 50th anniversary of The Brady Bunch series. A Very Brady Renovation begins on September 9, 2019.
About the Author
Francine Brokaw has been covering all aspects of the entertainment industry for over 25 years. She also writes about products and travel. She has been published in national and international newspapers and magazines as well as Internet websites. She has written her own book, Beyond the Red Carpet The World of Entertainment Journalists, from Sourced Media Books, is the entertainment correspondent for Good Day Orange County, and has her own TV show, Beyond the Red Carpet, on Village Television in Orange County.Follow her on Twitter.