The Big Bang Theory Season 7 Combo Pack
Category:
Blu-ray's and DVD's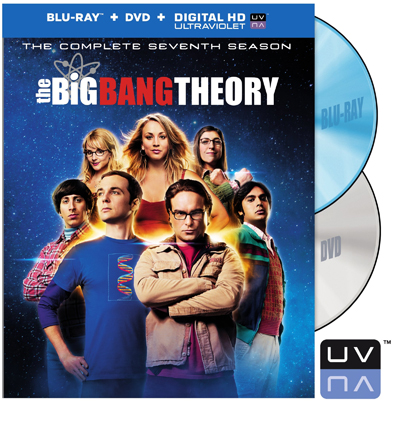 The Complete Seventh Season of The Big Bang Theory is now available on Blu-ray Combo, DVD & Digital HD. The Combo includes Blu-ray discs, DVDs, and Digital Ultraviolet download and they all are filled with fun bonus features.
The Big Bang Theory is popular sitcom with an amazing and talented cast. The show has made science and being a nerd socially acceptable today.
Season seven opens with Leonard (Johnny Galecki) returning from his expedition, and ends with Leonard and Penny (Kaley Cuoco-Sweeting) getting engaged. In between these episodes are plenty of great comical as well as emotional moments, with wonderful guest stars as well. Big Bang fans know all 24 episodes of the season are worthy of watching over and over again.
Bonus features are numerous and enlightening for fans of the show. Viewers gain a lot of insight into the characters, the actors, and the show with an entire feature showing the Comic-Con panel, which was moderated by Melissa Rauch, who plays Bernadette. The writers divulge intricacies about episodes and the characters.
Another feature looks at the episode in which Howard (Simon Helberg) writes a song for Bernadette. It's a fun ditty written by the Garfunkel & Oates team of Kate Micucci and Riki Lindhome, who have each appeared in the series. The song is touching as well as hysterical and wonderfully executed by Helberg. "String Theory Serenade" was "magical and awesome," according to writer/producer Steven Molaro. He says it was "one of the coolest, sweetest moments on the show." And Helberg agrees, saying it was "a rare moment."
Another bonus includes the three women – Kaley Cuoco-Sweeting, Melissa Rauch, and Mayim Bialik (Amy Farrah Fowler) – discussing the scene in which their characters go to an afternoon tea that is filled only with little girls. The three actors selected three of the girls to be their "mini-me" young duplicates and the three little girls take on the persona of the characters for this bonus feature. The three actors divulge what they would say to their younger selves. Rauch admitted she would tell her younger self not to think about growing, because she wouldn't! Rauch is 4'11" but every inch is packed with talent.
Some of the famous guest stars in the season included James Earl Jones, who was the voice of Darth Vader in the Star Wars movies, which are often part of the show. James Earl Jones said "it was a thrill" to be part of the series and Jim Parsons admitted it was "moving" to have this amazing star come on the show. This is a fun feature, which includes a tidbit about Carrie Fisher, also of Star Wars fame. You'll have to watch it to find out more. There are no spoiler alerts here.
And speaking of Star Wars, another bonus looks at the marriage between the movies and The Big Bang Theory. The show honored the film franchise on "Star Wars Day," which, as all geeks know, is May 4th. "May the 4th be with you." In this episode Bob Newhart, who had a recurring role on Big Bang as Professor Proton, showed up as Sheldon's Obi Wan. It is a touching and fun episode.
And, of course, there is a gag reel.
Between the 24 episodes and the bonus features, this is a must-have for all Big Bang fans.
About the Author
Francine Brokaw has been covering all aspects of the entertainment business for 20 years. She also writes about technology and has been a travel writer for the past 12 years. She has been published in national and international newspapers and magazines as well as internet websites. She has written her own book, Beyond the Red Carpet The World of Entertainment Journalists, from Sourced Media Books.
Follow her on Twitter
Like her on Facebook