The Best Offer on DVD
Category:
Blu-ray's and DVD's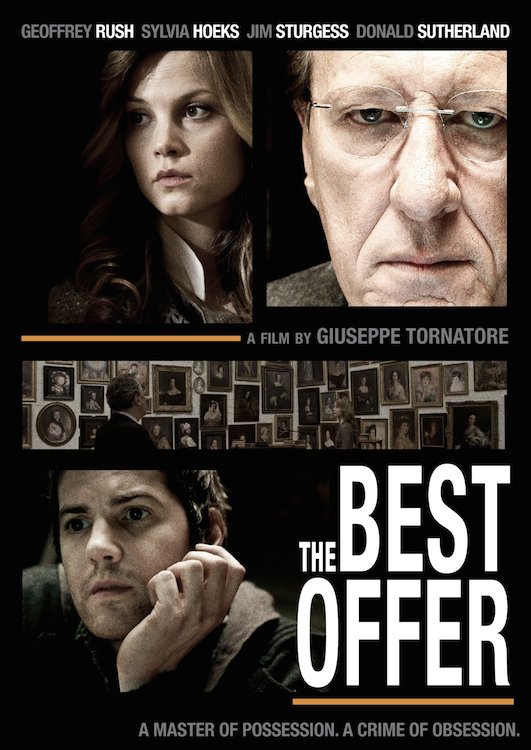 Geoffrey Rush stars in this emotional, romantic, and intriguing movie. The Best Offer is quirky yet offers viewers characters that create a mesmerizing tale.
Virgil Oldman (Rush) is a famous art appraiser and auctioneer. His knowledge of art is almost incomparable and he is sought out by people around the world to appraise their items. So, when he is asked to evaluate the contents of a villa, he hesitates because the owner only contacts him on the phone. They don't meet face to face. His curiosity gets the better of him and he agrees to take the job. Then he discovers Claire (Sylvia Hoeks) suffers from an illness and hasn't been out of her house in years. She avoids personal contact with others, and only allows the caretaker inside the house. That is until she hires Oldman.
Oldman is not void of quirkiness either. He refuses to touch anything and wears gloves to avoid personal contact with others. And, he does not have the highest moral character people believe him to possess. He is in cahoots with Billy (Donald Sutherland) who connives with him to bid on certain pieces of art that Oldman has under appraised in order to acquire them at a low price.
Now, add one more character into the storyline. Robert (Jim Sturgess) is a man who is good with machines and can fix anything mechanical, and ends up advising Oldman about his fixation with Claire.
Oldman is captivated by Claire. Their budding love story is one that threads its way through everything he does. She gets under his skin, so to speak and he is completely mesmerized by her.
Every character is an enigma in this movie, and no one is who he appears to be to the outside world. This is a story that is intriguing and captivating. There are twists and turns throughout the entire film. It is something that will definitely capture the imaginations of viewers. There is something enchanting yet bewildering about the film. In the end, it is a movie that is definitely thought provoking.
The Best Offer is rated R for some sexuality and graphic nudity. It is not for young viewers, however I found it to be an intriguing and very interesting and I do not hesitate to recommend it to viewers who enjoy smart, sophisticated, romantic and touching films.
About the Author
Francine Brokaw has been covering all aspects of the entertainment business for 20 years. She also writes about technology and has been a travel writer for the past 12 years. She has been published in national and international newspapers and magazines as well as internet websites. She has written her own book, Beyond the Red Carpet The World of Entertainment Journalists, from Sourced Media Books.
Follow her on Twitter
Like her on Facebook