The Best of Bogart Blu-Ray Collection
Category:
Blu-ray's and DVD's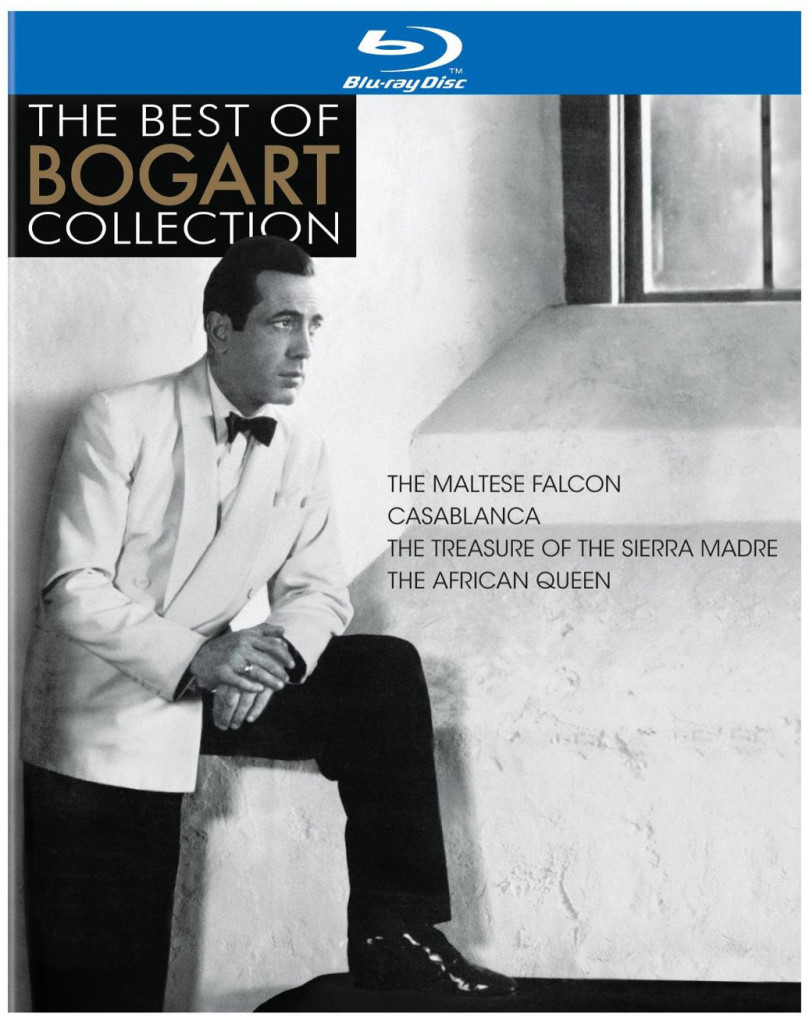 Four classic films combine to make this new set a must-have for fans of classic movies and especially fans of Humphrey Bogart. The African Queen, The Maltese Falcon, Casablanca, and The Treasure of the Sierra Madre are each legendary films in their own right, but when you combine them in this high-definition collection, they are even more spectacular, and then add the hours of bonus features and this new release is a true classic itself.
Bogart won the Academy Award for "Best Actor" for his performance in the 1951 film The African Queen. Starring alongside Katherine Hepburn, Bogart wowed audiences as a riverboat captain coerced into taking a stodgy missionary to safety in war-torn Africa. This is an endearing story of two people who bond over differences and similarities, and who find a way to work together while at the same time trying to survive.
A bonus feature on this disc is a "making of" documentary looking at the way the film was created and filmed on location in Africa, which was almost unheard of in those days. It was also filmed in Technicolor, which added another burden to the filmmakers. "Movies are like soufflés. They either rise or they don't." And this one did rise. Lauren Bacall, aka Mrs. Humphrey Bogart, traveled with him on location to help him and ended up helping the entire cast and crew, being nursemaid, cook, and general caretaker.
The Maltese Falcon (1941) paired Bogart with Mary Astor in a tale of a private detective on the trail of a priceless statue. The bonus features on this disc include a behind the story documentary. The movie is described as "the first great detective story." It incorporates "greed, lust, love, anxiety, truth, lies…"
The Treasure of the Sierra Madre (1948) won three Academy Awards. Bogart teamed with Walter Huston in a story of Americans mining for gold in Mexico. Bonus features include a documentary on the story, which is described as "a genuine classic" and on the AFI list of top 100 films. And there a wonderful and telling documentary about Director John Huston, narrated by Robert Mitchum, who describes Huston as a "joker, lover, drinker, (and) gambler" but was a brilliant director. Paul Newman claims Huston was "an eccentric's eccentric." He lived life to the fullest yet had high integrity when it came to his work. This documentary highlights the man and his films, and gives viewers a new perspective on the award-winning director/actor.
The 1942 film Casablanca is a film that, although takes place during World War II, is as interesting today as it was when it first hit the screens. Bogart is an expatriate living in Casablanca. He meets a former lover, played by Ingrid Bergman, and is then tangled in a web of good vs. evil as he must find a way to get her and her husband safely out of the country. With a bonus introduction by Lauren Bacall, who states this film is "a cinema masterpiece" and outtakes as well as a "behind the story" feature, this is truly a wonderful disc. And, an interesting bonus feature includes some deleted scenes, which are subtitled because the audio has been lost. Talk about a piece of Hollywood history!
The Maltese Falcon and The Treasure of the Sierra Madre are not rated. The African Queen is rated PG for thematic elements, some violence, and smoking. Casablanca is rated PG for mild violence.
About the Author
Francine Brokaw has been covering all aspects of the entertainment business for 20 years. She also writes about technology and has been a travel writer for the past 12 years. She has been published in national and international newspapers and magazines as well as internet websites. She has written her own book, Beyond the Red Carpet The World of Entertainment Journalists, from Sourced Media Books.
Follow her on Twitter
Like her on Facebook