The Beginners Bible DVD Series
Category:
Blu-ray's and DVD's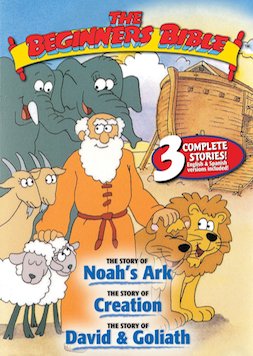 "The Beginners Bible" series are fun for kids. Volume 1 included the stories of Easter, the Nativity, and Moses. Volume 2, includes the stories of creation, Noah's Ark, and David and Goliath. With fun animations and songs, the DVD is a great way to introduce kids to the stories of the Bible.
"The Story of Creation" teaches kids about Adam and Eve in the Garden of Eden. Yes, they were naked but discreetly covered up in this animated tale for children. With these discs you don't have to worry about anything R or even PG rated.
"The Story of Noah's Ark" is a fun little tale with Noah, his family, and a lot of animals. It's cute and enjoyable even for adults. And, even though the story of building the ark is important, what happens once the rain stops is just as important to Noah and young viewers.
"The Story of David and Goliath" shows the tale of purpose and taking on a giant dilemma.
The stories are offered in both English and Spanish. The title song for the series, sung by Kathie Lee Gifford, is enjoyable in itself, but then add it to the cute animated stories that follow and you have several fun and easy to understand stories that kids probably have heard about but might not fully understand. These stories are presented in a simplistic way for them to understand and after viewing them they will be able to discuss them further with their parents. This is the perfect way to introduce young children to the stories of the Bible in a cute and enjoyable way that simplifies the stories while embracing the heart of the characters and their lives.
The third volume has "The Story of Jesus and His Miracles," "The Story of the Good Samaritan," and "The Story of the Prodigal Son."
About the Author
Francine Brokaw has been covering all aspects of the entertainment business for 20 years. She also writes about technology and has been a travel writer for the past 12 years. She has been published in national and international newspapers and magazines as well as internet websites. She has written her own book, Beyond the Red Carpet The World of Entertainment Journalists, from Sourced Media Books.
Follow her on Twitter
Like her on Facebook