The Beatles and Me On Tour by Ivor Davis – Book Review
Category:
Books and Music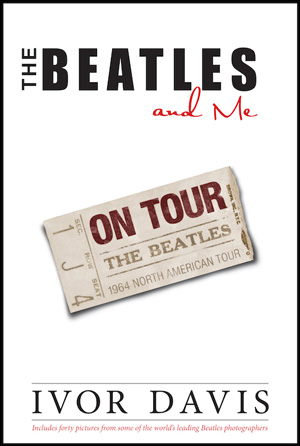 Rarely does the public get an inside look and an up close and personal experience with any rock group, let alone the Beatles. But Ivor Davis was basically embedded with the Fab Four during their first US tour in 1964.
"It's my personal, inside story of the time—50 years ago this Summer—that I traveled for five weeks with the Beatles on their first North American tour," explained the author. "I had total access to the Beatles, traveled with them on their private jet and also ghosted a column for George Harrison." The Beatles and Me On Tour is his journey with the Beatles as they traveled throughout the country. His stories are focused on their tour both on stage and especially off.
Anyone who is a Beatles fan will enjoy learning some of the personal details of the group. We all know they partook quite liberally in drugs and alcohol, and Davis does not leave these events out of the history. There are little inside tidbits of John, Paul, George, and Ringo, and some very interesting recollections about their time in America.
Their meeting with Elvis is quite enlightening, both about the Brits and the King. In the beginning none of them were overly eager to be together, but once they started jamming, it was a night those who were there will never forget.
Davis also disclosed the fact that – for those of us who didn't attend a Beatles concert in 1964 – the cost of a ticket was, well, by today's standards, less than the tax would be on a ticket in 2014. And, the Beatles were only on stage for about a half hour. There wasn't any joking, no give and take, or anything like we experience at concerts these days. The Beatles went on stage, played their songs, then left. The end.
During their trip to Dallas, John wanted to see where President Kennedy had been assassinated, but that didn't happen. And speaking of Kennedy, when the Beatles landed in Indianapolis on September 3, they learned the security for them "was even tighter than when President Kennedy had come to the city one year earlier." (p. 116).
Besides Elvis, the Beatles met several Hollywood celebs of the day, but no one really struck them. Well, except Peggy Lipton. It seems that Lipton and Paul had quite an intense little relationship for a very short time. And all four of them were engrossed with Bob Dylan.
Stories about garden parties PR functions, extravagant room service bills, driving limos on the Indianapolis Motor Speedway, and more make up this interesting look at a time long passed. The only way to learn about these events is from those who were there, and Ivor Davis was there. He lived it. And now he tells what happened, no holes barred.
To learn more about the author and the book, go to http://www.ivordavisbeatles.com
The Beatles and Me On Tour
Paperback: 338 pages
Publisher: Cockney Kid Publishing
ISBN-10: 0990371077
ISBN-13: 978-0990371076
About the Author
Francine Brokaw has been covering all aspects of the entertainment business for 20 years. She also writes about technology and has been a travel writer for the past 12 years. She has been published in national and international newspapers and magazines as well as internet websites. She has written her own book, Beyond the Red Carpet The World of Entertainment Journalists, from Sourced Media Books.
Follow her on Twitter
Like her on Facebook