'The Art of Ralph Breaks the Internet' - Book Review
Category:
Books and Music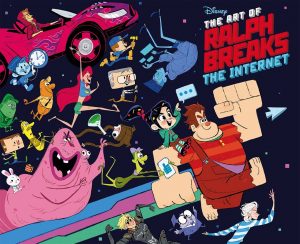 Ralph Breaks the Internet is an adorable and very imaginative and creative movie. The Art of Ralph Breaksthe Internet brings the images to the pages of this colorful book that animator enthusiasts will enjoy as well as those who simply just loved the movie.
There are plenty of vehicles in the film and this book shows them from all angles. As Kevin Nelson, Visual Development Artist, says, "The vehicles in Slaughter Race are nuts." And he's right. But it is sometimes difficult to see all the intricacies when you watch the movie. This book shows them in more detail.
Besides the vehicles, the characters are all laid out with both black and white sketches and colored digitalized versions. The new characters that come into play in the film are there but also included in this book are the Disney princesses that create a memorable scene with Vanellope. Again, it's a little difficult to get all the nuances while watching the movie for the first time. Audiences want to take it all in, so this book is perfect to be able to see the princesses in their gowns as well as their casual wear that Vanellope inspires. The book has a fold out section dedicated to the princesses. Matthias Lechner, Art Director, Environments, writes, "It's intimidating to make even a small change to one princess, and we had to come up with a new style for each of them."
So, besides the graphics in the book, there is a lot of input from the filmmakers and artists. This adds to the fun of looking at the pictures.
Parents will be able to discuss the images with their children and relive the various scenes from the film. It also makes a fun way to put a child to bed. Open up a page and tell a story about one of the characters or vehicles or locations (probably while your child hugs the plus Ralph of Vanellope from the Disney Store).
"The Art of Ralph Breaks the Internet" is a fun and informative book that is sure to be enjoyed by everyone, not only animator enthusiasts.
Hardcover: 168 pages
Publisher: Chronicle Books
ISBN-10: 1452163685
ISBN-13: 978-1452163680

About the Reviewer
Francine Brokaw writes about books, products, travel, and entertainment. She has been published in national and international newspapers and magazines as well as Internet websites. She has written her own book, Beyond the Red Carpet The World of Entertainment Journalists, from Sourced Media Books.
Follow her on Twitter