'The Art of "Onward"'
Category:
Books and Music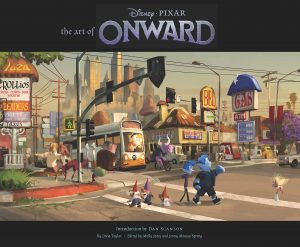 Disney/Pixar's latest hit is the movie Onward. Now the book, The Art of Onward, takes fans behind the scenes and into the art of the beautifully animated production.
The book describes the making of the film with plenty of narration as well as drawings to give readers a full understanding of how this story came to fruition through storytelling and artwork. As those who have seen the movie know, the two main characters are elves, so it was up to the animators to create reliable and relatable elves for the film.
"Creating a story for a Pixar film is a lot like going on a quest," says Kelsey Mann, the story supervisor. And the two characters of Ian and Barley Lightfoot go on a quest of their own in this story.
The illustrations between the covers of the book show the progression of the characters and the scenery that are important elements in any animated film.
The story is about family – Laurel, the mother, brothers Barley and Ian, and their deceased father Wilden. When the boys try to bring back Wilden for a day (you have to see the movie to understand this), they end up with only half of him. This aspect provided great fun for the filmmakers.
With all the other characters being not human, the filmmakers were tasked with creating a wide variety of animals and animal-like characters. The pages in the book are filled with plenty of information about the characters as well as drawings of the different characters from the movie. "The talking tree was one of the first pieces of artwork that we did for the movie," explains Director Dan Scanlon.
The information in the book is definitely an added piece of enjoyment for fans, however even if kids don't read the editorials, just looking at all the designs and illustrations on the pages makes this a fun book for all ages. Animated films include many aspects and the book brings together all the wonderful elements that went into the hit film.
This is definitely a fun book to have for anyone who enjoys the movie.
The Art of Onward
Chronicle Books
176 pages
Hardcover
About the Author
Francine Brokaw has been covering all aspects of the entertainment industry for over 25 years. She also writes about products and travel. She has been published in national and international newspapers and magazines as well as Internet websites. She has written her own book, Beyond the Red Carpet The World of Entertainment Journalists, from Sourced Media Books, is the entertainment correspondent for Good Day Orange County, and has her own TV show, Beyond the Red Carpet, on Village Television in Orange County. Follow her on Twitter.