The Animal Kingdom Lodge at Walt Disney World
Category:
Travel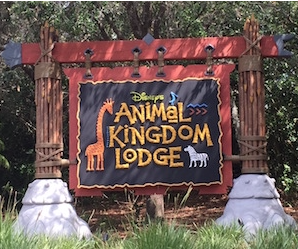 Every resort hotel at Walt Disney World is unique, each offering a different experience. For those of us who love animals, the Animal Kingdom Lodge next to The Animal Kingdom is the perfect way to spend time at WDW. Of course, most people will be out and about enjoying the fun of the theme parks, but when you return to the lodge you'll find there is still a lot to do.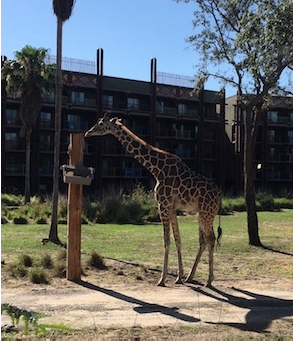 Animal watching is always a must while staying at the lodge. Disney did a lot of research to make sure the savannas are as close to their counterparts in Africa as they could be. Savanna-side rooms look out over the natural preserves. Don't be surprised if you see a giraffe when you look out your window. And if you don't have a savanna-facing room, don't worry. There are plenty of areas to sit and watch the wildlife. Zebras and a vast assortment of animals live here and are always fun to watch, even if they are just taking a nap. This is definitely different than going to a zoo. It's watching animals in their own natural habitat, or as close to their natural habitat as possible.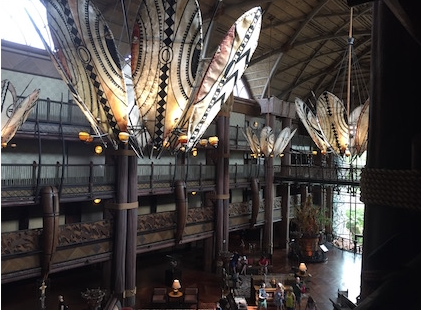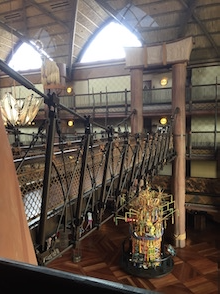 Stepping into the lodge is like a journey to Africa. There are drums beating throughout the day and African music playing to give guests a true sense of being on the continent. And you don't have to have any shots to come here!
The Animal Kingdom Lodge has several restaurants from quick dining to fine dining. With flavors of Africa as well as ambiance of the continent, these restaurants provide some tasty delicacies.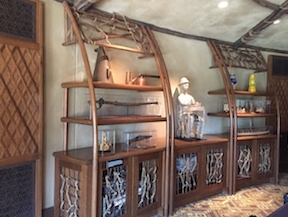 There is a gift shop where you can buy anything from Disney merchandise to African items. Clothing, toys, sculptures, artwork, jewelry, and just about everything else is available here. There are also several interactive activities and learning experiences available for guests. Most of us have never visited Africa, so this is your chance to learn more about the land, its people, and cultures. Plus, you can book a special safari excursion to travel through the savannas. The safari is for ages 10 and up.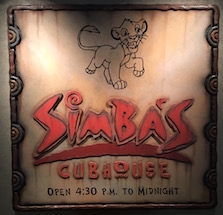 Besides the fun of animal viewing, there is a cool pool with a slide, an exercise room, and for kids there is Simba's Playroom that is open in the late afternoons through evening. Drop your kids off here while you enjoy a nice romantic dinner in one of the restaurants. The only requirement for kids is that they be potty trained. And movies are often shown on a large screen down by the pool. To say there is a lot to do here is an understatement. This is a hotel that is just as much fun for kids as it is for adults.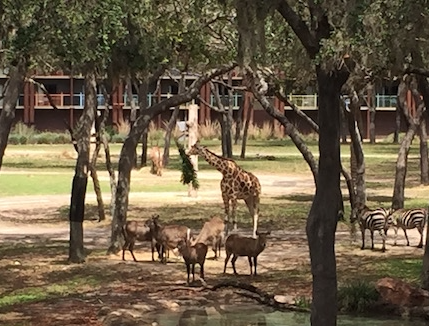 Like the other hotels in WDW, there is access to the theme parks directly from the hotel. The Animal Kingdom Lodge is serviced by busses, which run continually and take guests to The Magic Kingdom, EPCOT, Animal Kingdom, and the water parks. The busses are clearly marked so you won't accidentally go to the wrong location.
We all know the hustle and bustle in the theme parks. Sure they are a lot of fun and the reason we keep coming back to WDW. But when all is said and done, it's so nice to return to the lodge to sit and relax while watching the animals. Grab a drink and rest your feet from the day of traipsing around the parks, sit down, and wind down while looking at the zebras quietly meandering around the grass or the giraffes feeding on the trees. At dusk they all come out to feed and watch the humans watching them. Simba and Bambi aren't there, but then again, they are animated characters. The animals you see from the lodge are real, and just as entertaining precisely because they are real.
For animal lovers, your hotel choice at WDW is easy – The Animal Kingdom Lodge.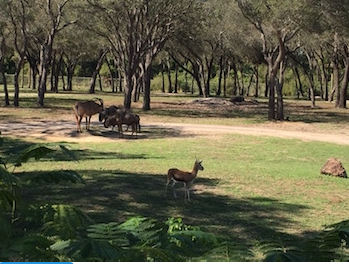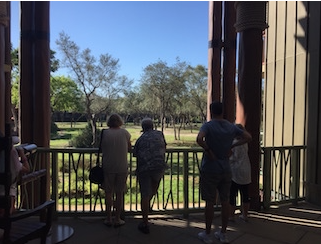 About the Author
Roy Brokaw writes about interesting things to do and places to see. He is also an accomplished travel photographer.