The Americanization of Emily on Blu-ray
Category:
Blu-ray's and DVD's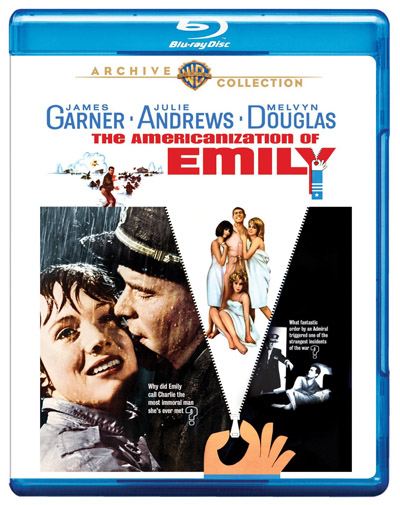 James Garner and Julie Andrews star in this offbeat 1964 movie that confronts the reality of war. The movie is in black and white, which adds to the tone of Garner's anti-war character.
Garner plays Lt. Commander Charles Madison, a "dog robber" in the United States Navy. A dog-robber is someone who does anything in his power to keep his Admiral comfortable. In this case Charlie procures chocolates, booze, steaks, eggs, vegetables, and female company for Admiral Jessup (Melvyn Douglas), which is a difficult thing to do in London near the end of World War II.
Emily Barham (Andrews) drives for the motor pool. When she first meets Madison she is a stuffy British woman with a chip on her shoulder. Her father and husband had been killed in the war, and here is this man who has a great sense of fun and is enjoying to the best of his ability his part in WWII. After all, Charlie is safe, not being shot at, and lives in luxury.
But Emily quickly changes and the attraction between the two is strong. She is happy that he is not in harm's way. That is one of his attractions to her. And the fact that he is anti-war adds to her feelings. Neither one of them wants to glorify war or fighting. They have seen too much bloodshed and grief.
Then when Charlie gets an assignment that puts him at the front line on D-Day, he schemes and maneuvers to get out of this crazy mission that was though up by the Admiral when he was having a nervous breakdown. Charlie knew the Admiral was losing his mind and put the fool-hardy scheme on the back burner, but his friend, Lt. Cmdr. Cummings (James Coburn) who has been living the high-life along with Charlie, decides it's time to get into the fighting and exchange the food, wine, and fancy rooms for a spot on the beach on D-Day. This doesn't sit well with Charlie.
What makes this an interesting movie is the craziness of the situations. Garner himself is anti-war. He told me once in an interview that this was a film close to his heart. The comedy of the situation and the wacky story are endearing to him and to viewers.
This is definitely a James Garner film. He carries it on his shoulders and watching him it is easy to be taken in by his character and his rough charm.
A bonus on this disc is a featurette about making the D-Day scene, which was filmed in Oxnard, California. The three-minute scene took four months of preparation and one week of shooting. But the hard work paid off. The scene is intense and provides the big twist to the movie.
The Americanization of Emily is a true anti-war classic with one of Hollywood's greatest leading men at the center of it. It is part of the Warner Archive Collection and can be ordered from their website at WBshop.com.
About the Author
Francine Brokaw has been covering all aspects of the entertainment business for 20 years. She also writes about technology and has been a travel writer for the past 12 years. She has been published in national and international newspapers and magazines as well as internet websites. She has written her own book, Beyond the Red Carpet The World of Entertainment Journalists, from Sourced Media Books.
Follow her on Twitter
Like her on Facebook