The Age of Adaline on Combo Pack
Category:
Blu-ray's and DVD's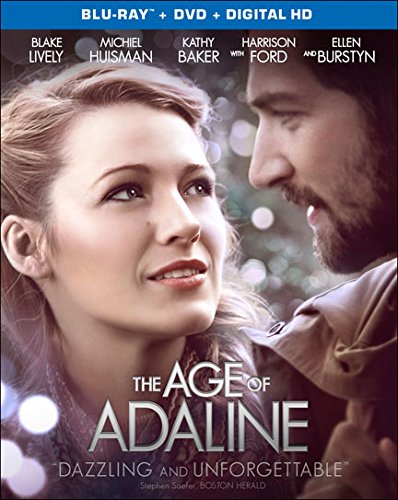 The age of Adaline is 29. The age of Adaline is 107. Which one is correct? They both are. Blake Lively stars in The Age of Adaline, a magical romance that unfolds over a century.
Adaline is a widow with a young daughter. She is 29 years old. Then one night she has an accident and due to unusual circumstances, Adaline's DNA is basically arrested in time. Her body has been halted at the age of 29, yet Adaline continues to live. And live, and live. To the world she is a 29-year-old woman, but as the decades go by she realizes it is difficult to maintain her secret and every ten years she moves and changes her identity.
If the authorities discovered her secret she would be the object for scientific study and that is unacceptable to her. While she maintains her youthful appearance her daughter ages normally. In order to keep her secret, the two cannot live together, yet their relationship of mother and daughter thrives. Ellen Burstyn plays Adaline's daughter.
It's about time for Adaline to move again and assume a new identity when she meets a man with whom she falls in love, against her better judgment. What will happen if she divulges her secret? And when she meets someone from her past, her life takes a dramatic turn.
Michel Huisman co-stars as the man who captures Adaline's love and attention. Kathy Baker and Harrison Ford play his parents. In actuality Adaline is their age yet she presents herself as a young woman dating their son.
The story is interesting and thought provoking. As the world changes, Adaline's body remains the same. It is an exhausting dilemma for this woman. She has been 29-years-old for 78 years. Is it time for her to divulge her life's story? And just exactly what is her story? She has no idea what happened to her and why she is the way she is. The narration of the film is interesting and describes the incidents in Adaline's life and the details of her accident. The descriptions are insightful and provide the background for her situation.
The Blu-day + DVD + Digital HD combo pack includes some bonus features. In a behind-the-scenes feature the story is described as "magical realism." It is definitely a magical story played out with Lively carrying the entire film. Another feature looks at the costumes and styling as the story unfolds over decades. The film is "a love story for the ages" and that describes it to a "T."
The movie is thought provoking. If you didn't age but continued to live, would you get bored after awhile? If you had to continually change your identity would that be fun or frustrating? If your child grew old and was facing old age and ultimate death while you stayed young, how would you feel? If you couldn't fall in love and live a normal life what would you do?
The Age of Adaline is also available on a single DVD. The movie is rated PG-13 for a suggestive comment.
About the Author
Francine Brokaw has been covering all aspects of the entertainment business for 20 years. She also writes about technology and has been a travel writer for the past 12 years. She has been published in national and international newspapers and magazines as well as internet websites. She has written her own book, Beyond the Red Carpet The World of Entertainment Journalists, from Sourced Media Books.
Follow her on Twitter