'The Adventures of Panda Warrior' on DVD
Category:
Blu-ray's and DVD's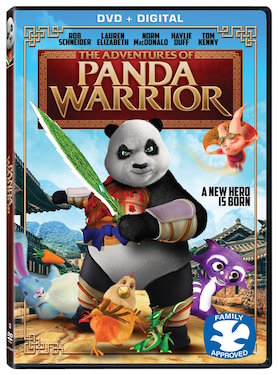 The Adventures of Panda Warrior is story takes place in an ancient time when the world is at war. Patrick is a peaceful soldier in China who doesn't want to learn to fight. He heard of a faraway land called Merryland. His grandfather told him this land was filled with wonder and peace. Suddenly – and magically – Patrick is transported to Merryland where he emerges as, yes, a Panda. How did he turn from a young man into a Panda?
In Merryland Patrick meets an array of animals as well as a log and a bunch of onions who all talk and who are trying to defeat the evil nine-headed snake who has taken over the land and turned it into a place not of peace but of conflict, as well as enslaving the princess. Patrick is assumed to be the Panda Warrior they have been waiting for. This great warrior will lead them to victory and peace again. But is Patrick that warrior?
This is a colorful film with some very interesting characters. As the band of warriors, led by Patrick, take back Merryland, there are some fun scenes and Patrick is a cute character. Patrick learns that he needs to have faith in himself. He trusts in the legend and in the memory of his beloved grandfather.
Rob Schneider voices Patrick, Lauren Elizabeth voices Peggy the flying pig (pigs do fly – in Merryland), Haylie Duff voices a brave goat named GoGo, and Norm MacDonald voices King Leo the lion. The movie was originally produced in China and periodically there will be Chinese writing on the screen. It's basically a knock-off of Kung Fu Panda. While it is not a movie adults will enjoy, kids might find the characters interesting, especially the talking – and burning – log and the fun little onions.
The bonus features include several shorts as well as a featurette with some of the American voice talent talking about the film and their characters. Kids won't find this entertaining, however some adults might.
The Adventures of Panda Warrior is rated PG for action violence and some mild rude humor.
About the Author
Francine Brokaw has been covering all aspects of the entertainment industry for 20 years. She also writes about products and travel. She has been published in national and international newspapers and magazines as well as Internet websites. She has written her own book, Beyond the Red Carpet The World of Entertainment Journalists, from Sourced Media Books.
Follow her on Twitter