'The 10th Kingdom' on Blu-ray
Category:
Blu-ray's and DVD's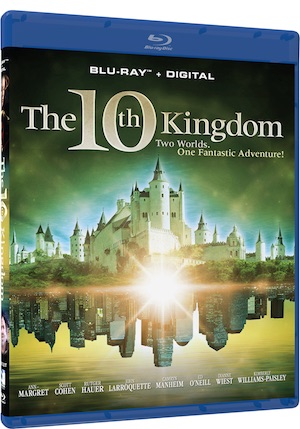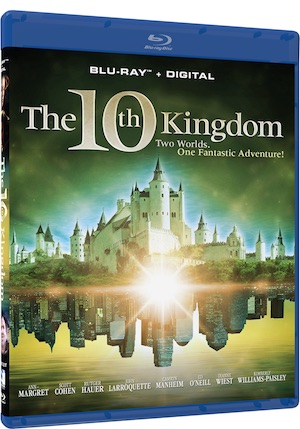 In 2000, The 10th Kingdom wowed television viewers. This 10-episode series was nominated and won several awards, including the Primetime Emmy for Outstanding Main Title Design. It could be thought of as the precursor to the hit TV series Once Upon a Time, maybe just a little.
Kimberly Williams-Paisley stars as a Virginia, a young woman living in New York City. Her father (John Larroquette) is the janitor of a large apartment building.
There is another "kingdom." In this fantasy kingdom Prince Wendell (Daniel Lapaine) has been turned into a dog by the Evil Queen (Dianne Wiest) who has been locked up in a maximum-security prison. Well, to make a long story short, Prince Wendell travels to the modern NYC via a magic mirror, with several trolls hunting him down, as well as a wolf in human form (Scott Cohen). They have all come from this fantasy kingdom, which is one of nine. The trolls declare New York as the 10th Kingdom.
There is a merging of fairy tales with the real world. When Virginia and her father travel through the magic mirror back to the other kingdom, they encounter characters from stories they had only read about. Jack's beanstalk, Cinderella, Snow White, Red Riding Hood, elves, etc. – you get the idea. This series combines fantasy with reality, making it interesting for viewers of all ages. As mentioned earlier, it is like the precursor to Once Upon a Time. If you enjoy that show, you will enjoy this story. The characters are enjoyable to watch as they mingle from one realm into another.
Magic is abundant in the kingdoms. It's a fun sci-fi/fantasy escape from the real world. While the characters are not exactly as we understood them to be, they are fun to see brought to life in this imaginative story.
This Mill Creek Entertainment Blu-ray + Digital edition includes a fun "making of" bonus feature. Giants, goblins, and trolls, oh my! With all the fun and adventure of fairy tales combined with the world of today, well, you have a 10-episode viewing extravaganza with notable actors. Ann-Margret is Cinderella, Rutger Hauer is the Huntsman, Ed O'Neill is the troll king, and Camryn Manheim is Snow White.
Elves, giants, trolls, goblins, princes, princesses, queens, villagers, enchanted objects, and more, not to mention Virginia and her father all combine in this fantasy. Will this fairy tale have a happy ending?
The 10th Kingdom is not rated however it is suitable for tweens and above.
About the Author
Francine Brokaw has been covering all aspects of the entertainment industry for over 20 years. She also writes about products and travel. She has been published in national and international newspapers and magazines as well as Internet websites. She has written her own book, Beyond the Red Carpet The World of Entertainment Journalists, from Sourced Media Books.
Follow her on Twitter