'Terminator Genisys' Combo Pack
Category:
Blu-ray's and DVD's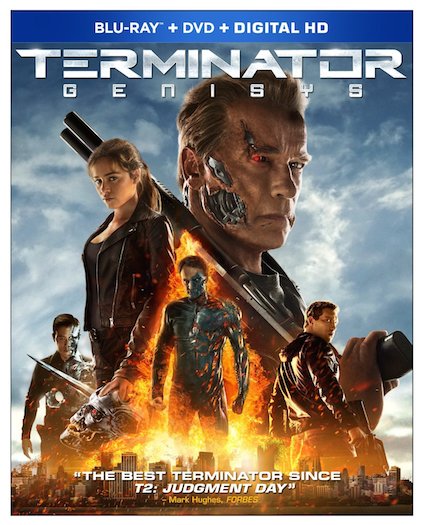 When Terminator Genisys hit the theaters several months ago, fans were electrified by the continuation of the Terminator franchise. He's baaaaaaack. Arnold Schwarzenegger returns and picks up where he left off – a little older but still able to kick butt.
Terminator has always been a war between humans and machines. If you have been aware of the franchise, you already know the names John and Sarah Connor, and of course, Skynet. They are back again, with different yet very nearly lookalike actors taking the roles.
Judgment Day is over and it is 2029. John Connor has just won a major war against the machines. But then discovers a terminator has been sent back to destroy his mother, John sends his friend Kyle (Jai Courtney) back to 1984 to protect Sarah. Now it is a different world this new protector encounters. The 1984 Reese encounters has already been altered. Bad things are happening. But Sarah and her guardian (Schwarzenegger), whom she calls "Pops" combine with Reese to put a stop to the world of terminators.
Bonus features include a look at the family dynamic on set and the international cast that was created for this film. As they say, it wouldn't be a Terminator movie without Arnold. His Terminator character is a pop culture and film icon. And who can forget his three famous words, "I'll be back?"
Schwarzenegger himself says the movie and the role was a "breakthrough for my career." He jokes that he was fully clothed during most of the movie and he is remembered for his "acting" in the film rather than his "body."
Sarah Connor is described as a strong icon for women and Emilia Clarke was honored to get to play this tough and smart character.
The film was shot on location in New Orleans and San Francisco and a bonus feature looks at how New Orleans looks more like the Los Angeles of the mid 1980s than does the current L.A. And movie magic also plays a part in this story. The effects do no disappoint fans and have improved greatly since the original film was produced in 1984.
Before you watch Terminator Genisys, you might want to relive the past films in this franchise: The Terminator (1984), Terminator 2: Judgment Day (1991), Terminator Salvation (2002- sans Arnold), and Terminator 3: Rise of the Machines (2003).
Terminator Genisys is available on a Blu-ray Combo Pack, a Blu-ray 3D Combo Pack, and a single disc DVD. It is rated PG-13 for intense sequences of sci-fi violence and gunplay throughout, partial nudity and brief strong language.
About the Author
Francine Brokaw has been covering all aspects of the entertainment business for 20 years. She also writes about technology and has been a travel writer for the past 12 years. She has been published in national and international newspapers and magazines as well as internet websites. She has written her own book, Beyond the Red Carpet The World of Entertainment Journalists, from Sourced Media Books.
Follow her on Twitter