Teacher's Pet on DVD
Category:
Blu-ray's and DVD's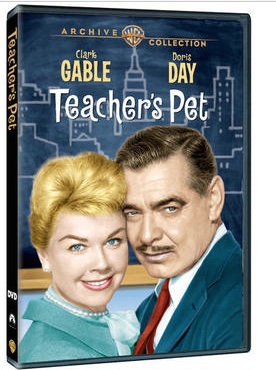 This 1958 movie is really adorable and not at all dated, except for the clothing and hairstyles. Put those minor details aside – and the fact that it is black and white – and you have a fun little movie that is filled with plenty of chuckles and a lot of heart. Teacher's Pet stars Clark Gable and Doris Day.
Clark Gable stars as James Gannon, a hard-nosed city editor of a large newspaper. He is hard drinking, hard living, and hard working. He lives and breathes for the newspaper and insists everyone who works for him does the same.
Doris Day is Erica Stone, a schoolteacher who wants to inspire others to write for newspapers. Her father won a Pulitzer Prize for an editorial in a small country newspaper and she has the business in her blood.
Both Stone and Gannon have the same desires to produce good journalists, but they have differing ways of getting them. Gannon thinks they need to learn by doing, and Stone thinks they can learn in classes. Gannon never graduated from High School and thinks schooling is not necessary to be a good journalist. Stone thinks schooling is an important element in journalism.
When Gannon goes to Erica's class to apologize for a rude letter he wrote, things get a bit screwy. He has an instant attraction to her. Knowing how she feels about the "rude" James Gannon, he masquerades as James Gallagher and enrolls in her journalism class. Lo and behold, he is the best student she has ever had and although he tells her he works for a wallpaper company, she sees him as a budding journalist. But what is going to happen when Erica finally learns her great student and suitor is a man she detests?
The laughs abound in this delightful story. Gable shows his comedy chops in this film. This is definitely a fun-filled story that is just as enjoyable today as it was in the 1950s.
Teacher's Pet is part of the Warner Archive Collection and can be ordered from their website atwww.wbshop.com.
About the Author
Francine Brokaw has been covering all aspects of the entertainment business for 20 years. She also writes about technology and has been a travel writer for the past 12 years. She has been published in national and international newspapers and magazines as well as internet websites. She has written her own book, Beyond the Red Carpet The World of Entertainment Journalists, from Sourced Media Books.
Follow her on Twitter
Like her on Facebook