'Tea with the Dames' on DVD
Category:
Blu-ray's and DVD's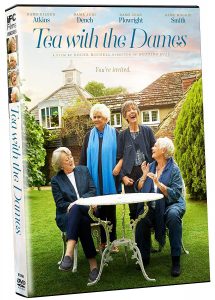 Dame Maggie Smith, Dame Judi Dench, Dame Eileen Atkins, and Dame Joan Plowright are the cream of the crop of British female actors. These women have been friends for decades and every once in awhile meet to talk and gab. This time they let the cameras in to give viewers an inside look at their little get-together. With their discussions and clips from their careers, viewers get a great picture of their lives and their friendship.
Loss of vision, loss of hearing, and loss of memory are not enough to stop these four women from an entertaining visit and enlightening view of their lives. They have many awards between them and have played in numerous Shakespeare plays and films, James Bond, Harry Potter, and even Downton Abbey. Their talents run the gamut from comedy to drama and everything in between, and their little discussion is a fun way to get an insight into their personalities as women and as actors.
Plowright is the widow of Laurence Olivier and his career comes up quite often during their get-together. He worked with several of the women as well as his wife. Smith mentioned she was a bit intimidated by Olivier. Well, who wouldn't be? Atkins was once married to actor Julian Glover then producer Bill Shepherd. Dench was married to actor Michael Williams. And Smith was married to actor Robert Stephens and then to writer Beverley Cross. The four women had worked together many times in various endeavors. For instance Gosford Park co-starred Smith and Atkins. The Best Exotic Marigold Hotel as well as Tea with Mussolini co-starred Dench and Smith. The four women also worked with their husbands, in different parts and different combinations.
The women also acknowledge they get nervous before appearances. Although they have been in the business for decades and are the best of the best, it's interesting to note they still get stage freight.
When asked what they would say to their younger selves, Smith declared, "When in doubt, don't." And the others agreed.
The film is an interesting peek inside the lives of these four remarkable actors who have shaped the entertainment industry during their lifetimes. While we rarely get a glimpse into the personal lives, hopes, and fears of actors, this film gives viewers a charming look at these four great British actors.
This is an interesting and enlightening visit with this charming quartet of actors.Tea with the Dames is not rated.
About the Author
Francine Brokaw has been covering all aspects of the entertainment industry for over 25 years. She also writes about products and travel. She has been published in national and international newspapers and magazines as well as Internet websites. She has written her own book, Beyond the Red Carpet The World of Entertainment Journalists, from Sourced Media Books, is the entertainment correspondent for Good Day Orange County, and has her own TV show, Beyond the Red Carpet, on Village Television in Orange County.
Follow her on Twitter