'Tangled: Queen for a Day' on DVD
Category:
Blu-ray's and DVD's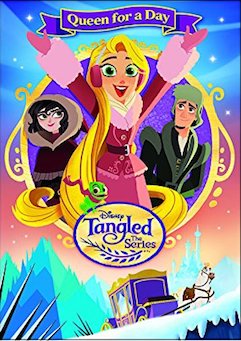 Can Rapunzel take over the kingdom when her parents leave for a vacation?
In Tangled The Series: Queen for a Day, Rapunzel's parents leave her in charge while they go for an anniversary vacation. Both she (Mandy Moore) and Eugene (Zachary Levi) assure them they will be fine and the kingdom is in good hands. After all, what could happen in two days?
What could happen? First, the king and queen have an accident in their carriage leaving Maximus to return to the castle to get help. Second, mysterious rocks are taking over the village. Third, a snowstorm is threatening the island. Fourth, some of Rapunzel's helpful ideas for the people aren't as helpful as she hoped and thought. Fifth, Varian's father is trapped inside one of the mysterious rocks. Sixth, Rapunzel defies her counsel and seeks out a mythical weather machine. And seventh, Rapunzel turns her back on her friend Varian (Jeremy Jordan). But hey, it's only for two days, right?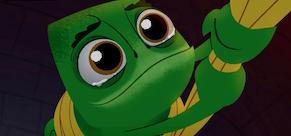 Viewers of the popular animated series will undoubtedly enjoy Rapunzel, Eugene, and Pascal as they each embark on journeys to save the kingdom and her parents. But will they all make it back safely?
As in the past, Rapunzel's instincts are spot on and she takes control of everything. Well, almost everything. She feels badly about not being able to help Varian, and that one decision will have consequences, although she made it for the sake of the entire country, not just his father.
This is an enjoyable 45-minute episode from the series that aired in November 2017.
Bonus features on the DVD include four shorts – each of them is an entry in Rapunzel's journal. In them she talks about returning to her parents, her father and her mother, and her best friend Cassandra.
The entire family will enjoy watching the show following the shoeless young princess, her faithful pal Pascal, and Eugene who is anxious to take control. All three of them are committed to maintaining stability and proving they have what it takes: courage and dedication.
Tangled The Series: Queen for a Day is rated TV-Y.
About the Author
Francine Brokaw has been covering all aspects of the entertainment industry for over 20 years. She also writes about products and travel. She has been published in national and international newspapers and magazines as well as Internet websites. She has written her own book, Beyond the Red Carpet The World of Entertainment Journalists, from Sourced Media Books.
Follow her on Twitter