Talking with the Cast of Scorpion
Category:
Television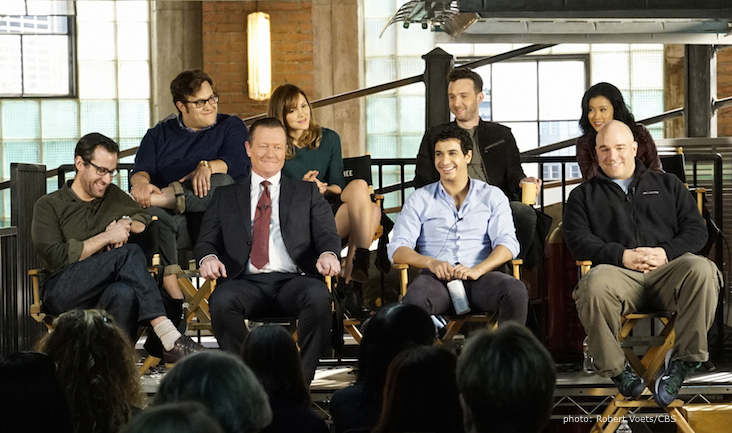 In the hit CBS drama Scorpion, Elyes Gabel, Eddie Kaye Thomas, Jadyn Wong, and Ari Stidham play a group of geniuses who work together to help Homeland Security and others defeat threats. Robert Patrick plays their boss and Katharine McPhee plays their anchor to the real world. These geniuses are smart in their own fields, but when it comes to street smarts and human interactions, they often need some help and grounding.
Ari Stidham, who plays Sylvester Dodd, acknowledged to a group of journalists recently, that even though his character is tech savvy, he isn't. "I have an iPhone 4s. It's got a really cracked screen. I'm still running Snow Leopard on both of my processors at home. I make music, and I record it on Garage Band 2008." Okay, so he's not as up-to-date on the latest versions. But he sure pulls it off on screen.
"I have to tap underneath the keyboard instead of on the keys because of sound, but it's hard for me to look like I'm typing because I normally look at the letters when I'm typing [in real life].
Ari also recounted a story about spilling water on the set. "It must have [cost] a lot of money that CBS lost because of an actual technological glitch because I'm a butterfingers."
Eddie Kaye Thomas' character is Toby Curtis. Thomas was excited that as the show continues and the characters grow and their relationships deepen, the tech part of the stories is not the main focus. "It's like we're bursting out of all this science and computer stuff with these great serialized character stories. And it's really exciting. I mean, it just feels like TV is stepping up their game in terms of characters." He described some of the personal relationships in the show and the emotions that the characters feel. The show has evolved. "Character stories are what we get to play with," said Thomas. "And then we also get to save the world."
Robert Patrick plays the father figure/boss on the show and takes that same persona off the set as well. "What goes on on the set kind of mirrors what we're actually going through as characters. And I'm the oldest guy on the crew here, and I feel responsible for them. And I feel responsible for them as actors and their characters. I'm real comfortable with it, and I love working with these guys."
He acknowledged the cast is a family "and a lot of fun to work with. And I do take it seriously and try to conduct myself in that fashion [of a patriarch]."
On a personal note, Patrick is a veteran who has had a great career in the industry. He is always a wonderful interview for me.
Scorpion has been renewed for a second season. It is one of the season's biggest hits. It's more than simply a dramatic Big Bang Theory. It's deeper than that. And It's filled with quirky characters, interesting technology, and a lot of entertainment.
About the Author
Francine Brokaw has been covering all aspects of the entertainment business for 20 years. She also writes about technology and has been a travel writer for the past 12 years. She has been published in national and international newspapers and magazines as well as internet websites. She has written her own book, Beyond the Red Carpet The World of Entertainment Journalists, from Sourced Media Books.
Follow her on Twitter
Like her on Facebook