'Table for Five' on Blu-ray
Category:
Blu-ray's and DVD's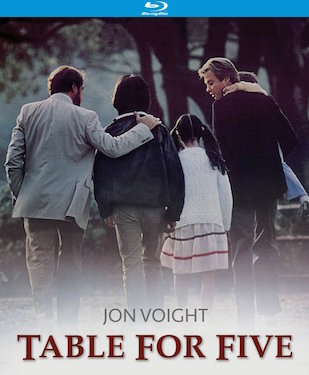 Jon Voight stars in Table for Five, a sensitive drama from 1983 about an estranged father trying to reconnect with his three children.
J.P. Tannen (Voight) desperately wants to have a better relationship with his young children. His ex-wife Kathleen (Millie Perkins) has remarried and Mitchell (Richard Crenna) is a devoted man to the three young kids: Tilde (Roxana Zal), Truman-Paul (Robby Kiger), and Trung (Son Hoang Bui). Tannen has never made much of his life and loves to party, but he feels he wants a little deeper connection with his kids. So he takes them on a cruise to the Mediterranean, with the reluctance of Kathleen and Mitch.
On board the ship the four start out all right but soon find they just aren't living on the same wavelength. Then J.P decides perhaps he just isn't a good father and says they should just try being friends.
The foursome does have some good times but when something happens that changes their lives, Tilde says they don't need another friend, they need a father. Watching J.P. transition to a loving and caring father during this cruise is heartening. He learns how to step up and finally put his kids needs before his own wants.
Voight is remarkable in this role. Don't forget to have some tissues handy when you watch this film, however. There are a lot of ups and downs as the family struggles to find their way and improve their core. And look for a very young Kevin Costner as a newlywed on the cruise with his bride.
When it comes down to it, Tannen finally learns how to be a parent, something he has struggled with for years. In this day and age when there are broken families, divorced parents, stepparents, and adopted kids, it's often difficult for everyone to find their place. While parents love their children, they often don't have the skills to raise them properly. That is the case with Tannen. But during the cruise when they are stuck out in the middle of the ocean he discovers how much he truly loves the three kids and how he needs to change in order to be the father they need and deserve.
On the ship he meets a divorced woman named Marie (Marie-Christine Barrault) who helps guide him through some difficult times. Her support and encouragement is important to him, yet in the end it is all up to him.
So why is it called "Table for Five" when there are only four in their party? That is part of the story. Initially Tannen was hoping to add a woman to their table so he would have a "date" during the cruise, which is something that upsets the kids. As the miles pass and the family bonds, he decides he doesn't need or want the extra chair. All he needs is his kids.
This is definitely a heartwarming story of family, love, and devotion. It's rated PG
About the Author
Francine Brokaw has been covering all aspects of the entertainment industry for over 20 years. She also writes about products and travel. She has been published in national and international newspapers and magazines as well as Internet websites. She has written her own book, Beyond the Red Carpet The World of Entertainment Journalists, from Sourced Media Books.
Follow her on Twitter