'Swift' on Blu-ray and DVD
Category:
Blu-ray's and DVD's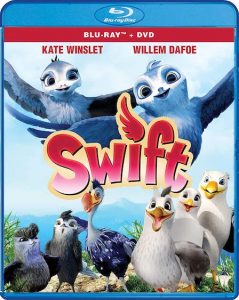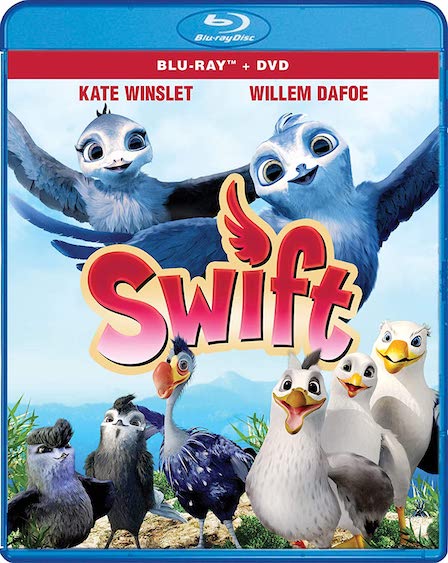 Swift is a fun family story for all ages. It's the story of little Manou, a little Swift bird who finds himself all alone however he discovers a seagull family who take him in as their own.
Manou is raised as a seagull however he is inept at doing the innate things seagulls can do. Nevertheless, his mother believes he should be fully accepted by the rest of the gulls while his father thinks he needs to leave the flock.
After a disturbing incident, Manou is sent away from his "family" and the flock. He finds a group of swifts that take him into their flock and help him adjust to life as a swift, and not as a gull.
The gulls and the swifts are not friends. They are all birds, but they do not associate with each other and they do not feel any friendliness towards each other. Manou is the bridge between the two groups. He also manages to help them see how they can work together and all get along.
Little Manou encounters several times when he just doesn't fit in. He has to find his own place in the world, and he does. He is a smart, loving and courageous bird who will stop at nothing to protect the gulls and the swifts. He is one of a kind. He is a swift, yet he has the gulls in his heart.
Bonus features on the disc include a "making of" where viewers learn how the story came to be. Another bonus is an interview with Willem Dafoe, the voice of Yves, Manou's gull father. It's funny when Dafoe is asked when he first learned about birds. He said his first memory of birds is that of the Alfred Hitchcock film The Birds.
Kate Winslet voices Manou's mother and Josh Keaton is the voice of Manou.  Besides the heartwarming story, there is some great music in the film. Swift is not rated however it is a family-friendly film.
About the Author
Francine Brokaw has been covering all aspects of the entertainment industry for over 25 years. She also writes about products and travel. She has been published in national and international newspapers and magazines as well as Internet websites. She has written her own book, Beyond the Red Carpet The World of Entertainment Journalists, from Sourced Media Books, is the entertainment correspondent for Good Day Orange County, and has her own TV show, Beyond the Red Carpet, on Village Television in Orange County. Follow her on Twitter.