Sweet Dreams: Time For Sleepybye! DVD
Category:
Blu-ray's and DVD's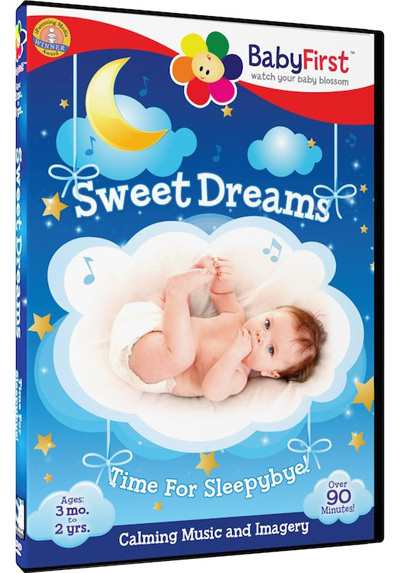 BabyFirst is a wonderful television channel for kids, and especially babies. Their evening programs are designed for babies to unwind, settle down, and go to sleep. This new DVD is part of this evening TV series, only now parents are able to play them any time with this DVD. Sweet Dreams: Time For Sleepybye! is a calming collection of sights and sounds for babies age 3 months to 2 years. Confession time: I almost fell asleep listening to the music, and I am much older than 2 years!
With calming sounds interspersed with a child's laughter, the music and noise is peaceful, restful, and lends itself to relaxing and drifting off to sleep. Now, pair that with some nice visuals – carousels, animals, drawings, etc. – and this is the perfect tool to help babies unwind. Yes, babies, like adults, do need to unwind.
More than 80 minutes combine to create this restful DVD. I highly recommend it for anyone who does not get the BabyFirst channel through his or her television provider. It's a nice tool to use nightly to encourage and create a gentile atmosphere for bedtime. It's a way for babies (and sometime adults) to unwind, let go of everything that has happened during the day, and simply gets into a Zen feeling.
When babies start healthy bedtime habits at a young age, they can carry that through their lives. Unwinding at the end of the day is important, and that is exactly what this DVD does for babies. And again, some of us adults can use this combination of soothing music and visuals too. Although it was created specifically for babies!
Kiss your baby good night, press play, and he or she will most likely enjoy the calming effects and go to sleep while the DVD is playing. Ahh. How sweet it is. Sweet dreams!
About the Author
Francine Brokaw has been covering all aspects of the entertainment business for 20 years. She also writes about technology and has been a travel writer for the past 12 years. She has been published in national and international newspapers and magazines as well as internet websites. She has written her own book, Beyond the Red Carpet The World of Entertainment Journalists, from Sourced Media Books.
Follow her on Twitter
Like her on Facebook