Sutherlands Team up in 'Forsaken'
Category:
Movies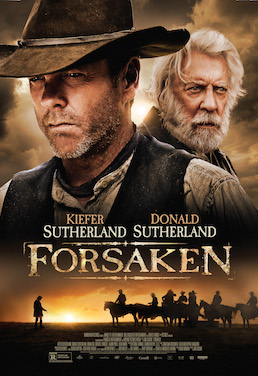 Forsaken marks the first time Donald Sutherland and his son Kiefer have teamed up on screen as father and son. This is a western film in the formula of the old westerns and had it been made decades ago, John Wayne or Clint Eastwood might have starred in the movie. This time it's Kiefer Sutherland who plays the brooding cowboy to his preacher father.
The movie takes place several years after the Civil War. John Henry Clayton (Kiefer) didn't return home after the war. Instead he got caught up in a life of drama as a gunslinger. It's time he gave up killing. His conscience is getting to him so he returns to his home where his father, the local preacher, is ambivalent about his return. He wants his son to live an honest, God-fearing life. John Henry wants that as well. He is tired of the life he has led for the last ten years, but can he really give it up?
He could if circumstances in the town were different. A group of land-grabbers have taken over and through intimidation and murder, are gobbling up the local farms. The ruthless men will do anything to take the land, and when their tactics hit too close to home, John Henry decides he must take a stand.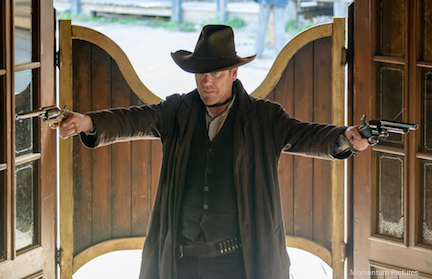 Demi Moore co-stars as John Henry's former girlfriend who waited for his return from the war. When he didn't come back, she moved on with her life. And Michael Wincott is Dave Turner, a gunman hired by the greedy James McCurdy (Brian Cox) in his quest to take over the land.
Forsaken is more a story of inner conflict rather than a lot of shoot-em-ups. Yes, there is some of that, but it's more a movie about relationships and especially about John Henry's relationship with himself. It's not fast-paced. It's not an edge-of-your-seat film. It is an entertaining albeit predictable film in the style of the old westerns.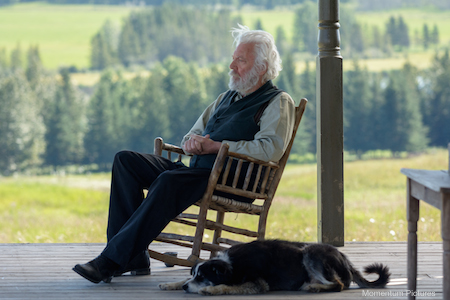 Audiences will find the pairing of the two Sutherlands interesting. While they have appeared together previously, they have never played a father and son.
Interestingly, the film was nominated for several Canadian Screen Awards. The movie was filmed in Canada. Both Donald and Kiefer are Canadians. Kiefer is perhaps best known for his popular TV series 24 and Donald has had a long and successful acting career spanning over 50 years. Forsaken opens in theaters February 19, 2016 and is rated R for violence for violence and some language.
About the Author
Francine Brokaw has been covering all aspects of the entertainment industry for 20 years. She also writes about products and travel. She has been published in national and international newspapers and magazines as well as Internet websites. She has written her own book, Beyond the Red Carpet The World of Entertainment Journalists, from Sourced Media Books.
Follow her on Twitter