'Suspicion' Stars Cary Grant and Joan Fontaine
Category:
Blu-ray's and DVD's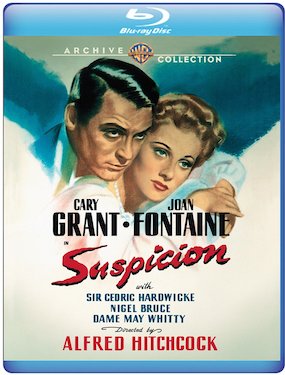 The first collaboration between Alfred Hitchcock and Cary Grant was the 1941 black and white film Suspicion. Grant stars as Johnnie, a charming man with no money who sets his sights on Lina, an introverted heiress thinking she will remain a spinster. Lina lives with her mother and father, and is shy, without much experience with men. They inadvertently meet on a train and soon they meet again, setting their futures in motion.
After they marry, Lina discovers her husband has no money at all and intends on living off of hers. But she doesn't have much of an income so she insists he get a job. Unfortunately, Johnnie is a major gambler and cannot give up his vice. This leads to complications in their marriage; however the love she has for him overrules her head.
Then Lina begins to suspect her husband of notorious schemes, like killing his best friend. But Johnnie always has an alibi for anything she comes up with. Maybe she is just imagining that her husband is scheming and plotting notorious acts. But he definitely needs money, so killing his business partner/best friend would get him the funds he needs.
When Johnnie becomes interested in poisons that cannot be traced in a dead body, Lina's suspicions are again raised. Their good friend happens to be a murder writer and as such gives them plenty of information about plotting murders, which doesn't ease Lina's mind in the least.
The movie was based on a book with a different ending, or so we think. The ending of the film is not exactly clear-cut, however viewers are free to derive their own ideas of what happens to this couple in the future.
The bonus feature on the new Blu-ray provides many insights into the film, the characters, the actors, and Hitchcock. As far as Grant/Hitchcock films rate, this is at the bottom of the list. Their future endeavors are much better films with more depth and entertainment: Notorious, To Catch a Thief, and North by Northwest.
The bottom line is Suspicion is not the best Grant/Hitchcock movie, however Joan Fontaine took home the Academy Award that year for her performance of Lina.
Suspicion is part of the Warner Archive Collection and this Blu-ray is available MOD from their website.
About the Author
Francine Brokaw has been covering all aspects of the entertainment industry for 20 years. She also writes about products and travel. She has been published in national and international newspapers and magazines as well as Internet websites. She has written her own book, Beyond the Red Carpet The World of Entertainment Journalists, from Sourced Media Books.
Follow her on Twitter