Susan Lucci stars in 'Ebbie' - now on DVD
Category:
Blu-ray's and DVD's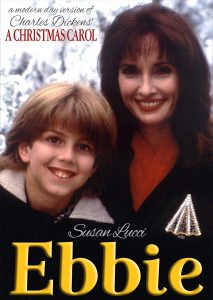 Susan Lucci stars in Ebbie, a 1995 retelling of the classic Dickens story "A Christmas Carol."  This TV movie is now available on DVD.
Lucci is Elizabeth 'Ebbie' Scrooge. She is a ruthless owner of a thriving department store. She wasn't always this way. She started out at the bottom of the heap and worked her way up the ladder. Along the way she neglected her family, her personal life, and the staff. Her entire life has been dedicated to making the most money. Her work is her life.
On Christmas Eve she is visited by the Spirits of Christmas Past (Jennifer Clement and Nicole Parker), the Spirit of Christmas Present (Lorena Gale), and the Spirit of Christmases Yet to Come (Bill Croft). Along the way Ebbie sees that her life has been a selfish one. She realizes that she has neglected her family and been a horrible boss. She is able to reflect on what she has done and is horrified with the future. Ebbie knows that that woman she sees in the future is not the woman she wants to become. She knows she has to change her life, and when Christmas arrives she does just that.
Wendy Crewson costars as Roberta Cratchet, and Taran Noah Smith is little Timmy Cratchet. Molly Parker plays Ebbie's older sister as well as her niece.This updated version of the classic story is heartening and uplifting. It leaves viewers with a happy feeling, just as it does for Ebbie. Susan Lucci is a delight to watch as she changes from the hardnosed and callous Elizabeth to the joyful and hopeful Ebbie.
Ebbie is not rated however it is a wonderful movie for the entire family. Enjoy the holiday season with your family and this enchanting story told in a modern way.
About the Author
Francine Brokaw has been covering all aspects of the entertainment industry for over 25 years. She also writes about products and travel. She has been published in national and international newspapers and magazines as well as Internet websites. She has written her own book, Beyond the Red Carpet The World of Entertainment Journalists, from Sourced Media Books.
Follow her on Twitter