'Support Your Local Gunfighter' now on Blu-ray
Category:
Blu-ray's and DVD's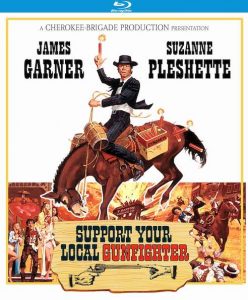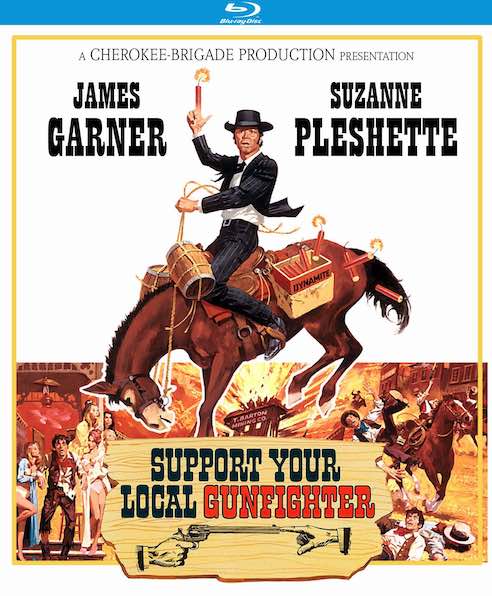 Two years after he made Support Your Local Sheriff, James Garner and a bunch of the same actors joined together for Support Your Local Gunfighter. This is not a sequel. It is a separate film.
Garner is Latigo Smith who is smart and cunning and manages to outsmart an entire town. He doesn't ride horses and doesn't like to shoot a gun. He also doesn't drink alcohol, except on certain occasions.
Smith finds himself in a dangerous situation when he gets off a train in a small Western town. He is mistaken for the famous – and fastest – gunslinger, Swifty Morgan (Chuck Conners). Supposedly Swifty was hired by one of the two competing mining companies to get the other to leave.
After meeting a man named Jug May (Jack Elam), they start a friendship and Smith manages to convince everyone that Jug is Swifty. That takes the pressure off of himself, as many in the town, most of all a young woman names Patience (Suzanne Pleshette), start taking shots at the man.
This is a rather far-fetched and whacky story, but the actors are all good and seeing Garner as a New York gentleman/ con artist/ladies man out of his element in the rough and tumble Western town is the fun part. This is definitely not one of his greatest films, but Garner is always good in everything he does and turns in another enjoyable and entertaining performance. It also looks like he had a fun time filming the movie.
Others in the film are Harry Morgan, Joan Blondell, Dub Taylor, Henry Jones, John Dehner and Ellen Corby. This film falls in the categories of Comedy, Western, and Romance, so you know what the ending will be when it comes to Patience and Smith.
If you're in the mood for a whacky Western, with a great cast and all the attraction James Garner brings to his character of Latigo Smith, check out Support Your Local Gunfighter. It is rated G.
About the Author
Francine Brokaw has been covering all aspects of the entertainment industry for over 25 years. She also writes about products and travel. She has been published in national and international newspapers and magazines as well as Internet websites. She has written her own book, Beyond the Red Carpet The World of Entertainment Journalists, from Sourced Media Books, is the entertainment correspondent for Good Day Orange County, and has her own TV show, Beyond the Red Carpet, on Village Television in Orange County. Follow her on Twitter.