Supermensch: The Legend of Shep Gordon
Category:
Blu-ray's and DVD's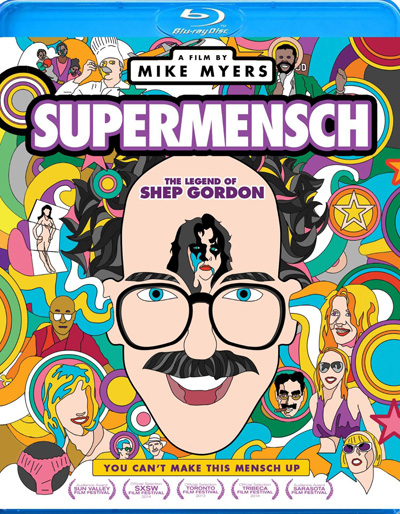 Mike Myers takes his first spin behind the camera directing this documentary about legendary Hollywood manager Shep Gordon. Gordon might not be a household name, but his clients are.
Shep Gordon is described as "the quintessential manager." In the film Actor Michael Douglas says he is filled with "compassion." Interviews with Douglas, Sylvester Stallone, Anne Murray, Tom Arnold, Alice Cooper and a host of other celebs as well as comments and insight from Gordon himself provide a complete picture of the life and times of this Hollywood icon.
Gordon had an interesting rise to fame. He majored in sociology then tried his hand, albeit for a very short time, at being a probation officer. He wanted to help kids. But that didn't last and soon he was on his way to Hollywood where he accidentally met several (soon to be) giants in the entertainment industry. Janice Joplin, Jimmy Hendrix, and Jim Morrison became best buds with Gordon, and he joined their sex, drugs, and rock and roll lifestyle.
Shep Gordon singlehandedly crafted Alice Cooper and he orchestrated PR stunts to raise international attention for the singer, who turned out to be his lifelong friend. "Family is important," Gordon acknowledges, and his clients were, at the time, the closest thing to a family he had around him in California.
The techniques he used to propel public interest in his clients are amazing. Imagine gathering a group of A-list stars – which by the way included John Lennon – together so his new client Anne Murray could be photographed with them. This one photo basically launched the high-flying career of this Canadian singer.
Alice Cooper and Anne Murray? Who could be more opposite? It didn't matter to Gordon. He made sure his clients were well cared for and had widespread publicity. That is the sign of a great manager.
"He is a protector," states Sylvester Stallone. "He keeps the wolf from the door."
True, this is not a film for everyone. It is, however, an interesting look at a man who made an impact in the entertainment industry. It was an official selection at many film festivals.
This is a documentary for adults only. It shows the excesses that were part of the Hollywood culture in the 1960s and 1970s and is not recommended for young viewers. Supermensch is rated R for language, some sexual references, nudity and drug use.
About the Author
Francine Brokaw has been covering all aspects of the entertainment business for 20 years. She also writes about technology and has been a travel writer for the past 12 years. She has been published in national and international newspapers and magazines as well as internet websites. She has written her own book, Beyond the Red Carpet The World of Entertainment Journalists, from Sourced Media Books.
Follow her on Twitter
Like her on Facebook