'Superdome' on Blu-ray
Category:
Blu-ray's and DVD's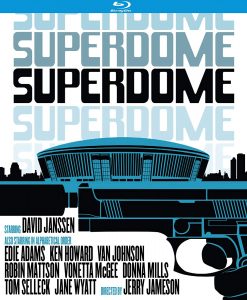 Superdome is a 1978 TV movie with an amazing cast. David Janssen heads up the list of well-known actors of the time, with Donna Mills, Tom Selleck, Van Johnson, Ken Howard, Peter Haskell, Clifton Davis, Edie Adams, Ed Nelson, and Jane Wyatt adding to the impressive cast.
New Orleans is preparing for the Super Bowl. The Cougars is the favored team. While the preparations for the game are underway, mysterious deaths start happening. They are all related to the team.
With a killer on the loose, the team's manager (Janssen) is trying to figure out what is going on, at the same time he is being wooed by a mysterious woman (Mills). The star quarterback (Selleck) is being courted by an advertising firm trying to get an endorsement. And another player (Howard) is having marital problems while at the same time confronting an early mid-life crisis. So, there is plenty of drama with the players and the management of the team while the big game gets closer and closer and the murders are mounting up.
The movie was filmed on location in New Orleans and at the Superdome itself. Unlike today's movies where terrorism is at the root of the disasters, this is a movie where simple human greed is at the heart of the murders. A large bet on the outcome of the game is the reason for the murders and the plot against the Cougars.
Being a 1978 film, it is definitely simpler than today's movies, but it is fun to see the hairstyles and clothing of the day. While Tom Selleck had been acting prior to this film, he was yet to become a household name. It was not until 1980 when he jumped into the Ferrari and took on the role of Thomas Magnum.
The lead actor, Janssen, was already a household name, having starred in the TV series' Richard Diamond, Private Detective, The Fugitive, and Harry O. While women will undoubtedly be attracted to the Selleck character, it is Janssen who is the hunk of the film.
Superdome is not rated however it is not suitable for young kids as it involves murder, drugs, and adult content.
About the Author
Francine Brokaw has been covering all aspects of the entertainment industry for over 25 years. She also writes about products and travel. She has been published in national and international newspapers and magazines as well as Internet websites. She has written her own book, Beyond the Red Carpet The World of Entertainment Journalists, from Sourced Media Books, is the entertainment correspondent for Good Day Orange County, and has her own TV show, Beyond the Red Carpet, on Village Television in Orange County. Follow her on Twitter.