Strange Magic – Movie Review
Category:
Movies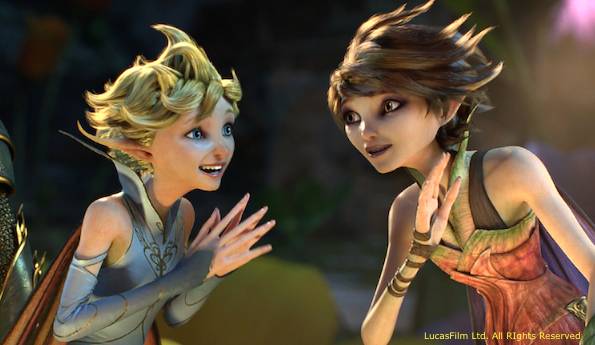 We can't help with whom we fall in love, or can we? Well, with a little help from a love potion our lives can be changed forever. Or not. Strange Magic is a magical, enchanting animated musical for the entire family. It's truly entertaining and absolutely adorable.
From LucasFilm and the world of Disney, this story is colorful, delightful, and definitely musical, as it contains a host of pop songs from the last 60 years. George Lucas has said, "I love telling stories with music. Strange Magic may take a different approach than we did with American Graffiti, but I had just as much fun." And there is plenty of music in this movie.
Strange Magic is a fairy tale with plenty of interesting characters including fairies, imps, elves, and goblins. It begins with Princess Marianne (voiced by Evan Rachel Wood) who is preparing to marry the very handsome Roland (voiced by Sam Palladio). But when Marianne discovers all Roland is interested in is being king and having an army, the wedding is called off and Marianne vows never to fall in love again.
Marianne's sister Dawn (Meredith Anne Bull) is filled with love and falls in love at the drop of a hat. Sunny (Elijah Kelley), an elf, is in love with Dawn but she doesn't know it. And Roland is still intent on making Marianne marry him so he can become king.
All of this takes place in a land divided. There is the Fairy Kingdom and there is the Dark Forest. In the Dark Forest are all kinds of creatures and critters ruled by the Bog King (Alan Cumming). A long time ago the Bog King captured the Sugar Plum Fairy (Kristin Chenoweth) because of, well, I won't give any spoiler alerts here. But I will say the Sugar Plum Fairy has the ability to create a love potion, which is supposed to make someone fall in love when they are dusted with it.
Without giving any more information away, I will say that the story then revolves around the two sides fighting over the potion. There are some really fun little critters in both lands, and when they are put together, well, they are really fun to watch.
Okay, so there is the fun little story, plenty of magic, colorful scenes and cute characters. But then add to that the piece de resistance: the music. This is definitely a musical and the songs work perfectly into the story: "Can't Help Falling in Love," "I'll Never Fall in Love Again," "C'mon Marianne," "Mistreated," "Love is Strange," "I Wanna Dance with Somebody," "I Can't Help Myself (Sugar Pie Honey Bunch)," and more.
The moral of the movie is "Everybody deserves to be loved." This is a film that is rated PG for some action and scary images, however the kids I spoke with after the screening (ages 5-12) loved it. Strange Magic is pure entertainment.
About the Author
Francine Brokaw has been covering all aspects of the entertainment business for 20 years. She also writes about technology and has been a travel writer for the past 12 years. She has been published in national and international newspapers and magazines as well as internet websites. She has written her own book, Beyond the Red Carpet The World of Entertainment Journalists, from Sourced Media Books.
Follow her on Twitter
Like her on Facebook