'Straight Talk' on Blu-ray
Category:
Blu-ray's and DVD's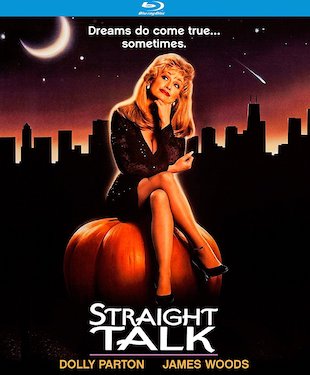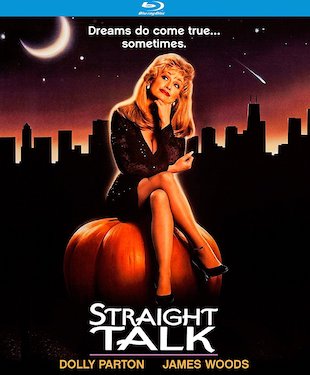 Dolly Parton is adorable in Straight Talk, a 1992 movie that still holds up today. Along with James Woods, Parton endears herself to viewers as she blends her true country charm with her character to create a fun and humorous tale.
Parton is Shirlee, a sweet and honest woman who leaves her small town and takes off for the big – and windy – city of Chicago. There she accidentally meets Jack (Woods) a reporter who thinks she is about to kill herself. But that is the last thing on her mind.
Shirlee takes a job as a receptionist at a local radio station. While wandering around the station, she accidentally goes into the wrong room and is mistaken for a psychologist who is supposed to be the station's newest talk show host. Innocent and complying with their requests, Shirlee puts on the headphones and begins answering phone calls from callers in the city. She doesn't hold back. She tells it like it is and soon she is playing along with her boss who has learned her secret but knows she is a gold mine for the station. Shirlee is living the high life in the big city, although deep down she has a little pang of guilt because she is pretending to be a psychologist. But "Dr. Shirlee" is Chicago's newest celebrity and everyone is enjoying her blunt talk.
Jack decides to dig deep into her history. He knows something is not right. Could this be the same woman he thought was about to jump off a bridge not long ago?
As Jack digs into her history, he and Shirlee become closer and yes, an attraction is there. That doesn't bode well for a journalist who is hot on a story, but their relationship blooms and as Shirlee becomes more popular – and famous – she and Jack become closer.
Her heart tells her to tell the truth, but she is in too deep. And she feels she is helping people with her blunt comments and down-home reasoning.
Shirlee is now the face of Chicago. How can she get out of this made-up situation? And what will people think of her once they know the truth? But, as they say, the truth will set you free.
Straight Talk is adorable and Parton is fun to watch. It's now available on Blu-ray. The movie is rated PG for mild language, sex related dialogue, and momentary sensuality.
About the Author
Francine Brokaw has been covering all aspects of the entertainment industry for over 20 years. She also writes about products and travel. She has been published in national and international newspapers and magazines as well as Internet websites. She has written her own book, Beyond the Red Carpet The World of Entertainment Journalists, from Sourced Media Books.
Follow her on Twitter