Stewart + Ogden Diner Bistro in Downtown Las Vegas
Category:
Travel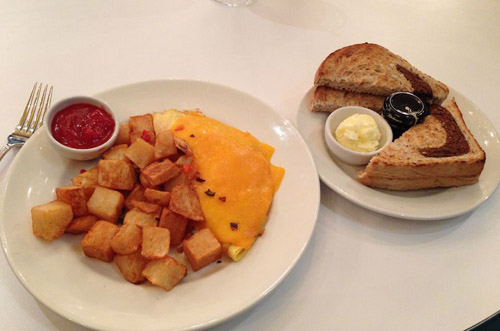 Downtown Las Vegas is changing and getting to be more of a destination for visitors. It doesn't have the hustle and bustle of the strip. It's more easy-going, which is probably why it is gaining in popularity among visitors to this city. Located in the new Downtown Grand hotel in Las Vegas is Stewart + Ogden Diner Bistro, a quaint little restaurant with a comfortable atmosphere and really good food. Whether you want breakfast, lunch, or dinner, this is the place to go.
The restaurant describes its food as "Traditional and Adventurous American Cuisine." What does that mean? Simply put, there are some great food combinations and there are also some simple choices. You will find something delicious here.
We certainly did when we stopped in for lunch. They offer "Breakfast at Lunch," with all kinds of breakfast selections, including Cinnamon Roll Waffles, Eggs Benedict, Smoked Salmon Lox, Eggs, and Omelets. The omelet I selected was delicious, and their house potatoes made the meal extra tasty.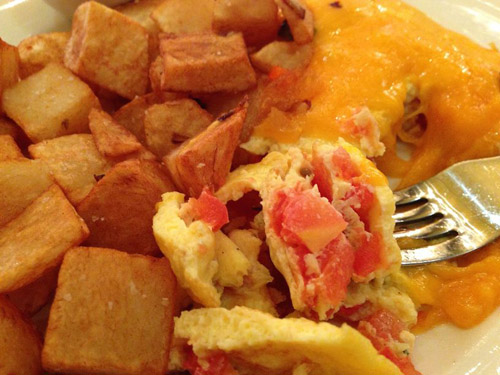 If you prefer regular lunch items, they have that too. They have sandwiches, salads, fish & chips, fried chicken, and more. How can anyone improve on the great American classic grilled cheese sandwich? They can. Their "Ultimate Grilled Cheese" is made with Swiss, cheddar, and American cheese, roasted tomato and smoked bacon. Of course, you can also order it without the bacon or tomato if you prefer.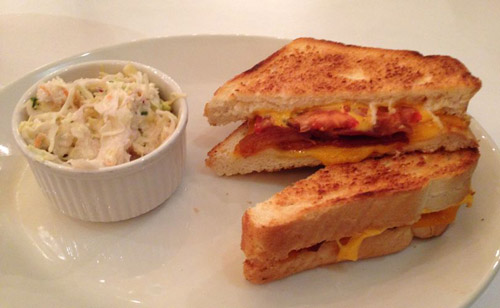 So, how do they stand on prices? They're pretty reasonable, actually. The highest price lunch is $16 (Steak Frites). A "Classic Burger" will run you $9 and an "Ogden Chop Salad" is only $8. Even their "Smoked Salmon Lox" on a bagel with all the trimmings is only $10.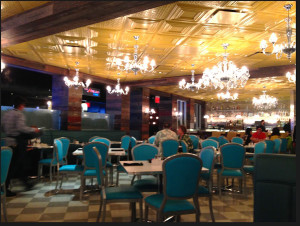 With the more sedate atmosphere downtown, it's no wonder many visitors prefer the fun and less crowded streets and sidewalks to the Strip. Walking around downtown Las Vegas is not like walking along the Strip. Other pedestrians don't bump into you, and it's more relaxing.
Even if you don't stay in downtown, it is an interesting way to spend some time when you visit Las Vegas. And when you do, don't forget about Stewart + Ogden Diner Bistro in the Downtown Grand hotel. If you just want some good food in a stress-free setting, this is the place.
About the Author
Francine Brokaw has been covering all aspects of the entertainment business for 20 years. She also writes about technology and has been a travel writer for the past 12 years. She has been published in national and international newspapers and magazines as well as internet websites. She has written her own book, Beyond the Red Carpet The World of Entertainment Journalists, from Sourced Media Books.
Follow her on Twitter
Like her on Facebook