'State Fair' on Blu-ray is filled with music and mayhem
Category:
Blu-ray's and DVD's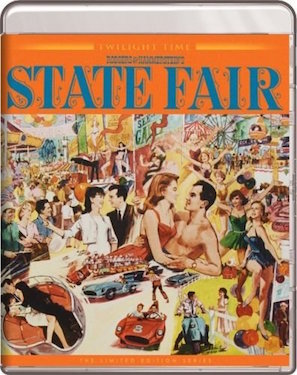 State Fair has been produced over and over. The story about a farm family that goes to the state fair and finds love, luck, and local fame first appeared in 1933. Rogers and Hammerstein then made the film into a musical in 1945. And in 1962 it was once again reimagined for the new generation of the time. In 1976 the story became a TV movie pilot that never made it to series. The 1962 version is now available on Blu-ray from Twilight Time.
State Fair (1962) has an all-star cast, with Pat Boone, Bobby Darin, Alice Faye, Ann-Margret, Tom Ewell, and Pamela Tiffin. This version of the story has a Texas family traveling to Dallas for the biggest state fair in the country. The parents, Melissa and Abel (Faye and Ewell), have specific desires at the fair. Melissa has entered her mincemeat concoction and Abel has his pride boar Blue Boy entered as well. Their son Wayne (Boone) is longing to race his sports car and daughter Margy (Tiffin) is looking for something to lift her out of her doldrums.
Margy meets broadcaster Jerry Dundee (Darin), a ladies man who is smitten with the farm girl. And Wayne meets sophisticated entertainer Emily (Ann-Margret) whose lifestyle is the complete opposite of his but nevertheless he feels she would fit into his life on the farm.
The contests and all the fun of the midway bring plenty of spirit to the story. And the songs by Rogers and Hammerstein create a joyful atmosphere in which all the characters partake and manage to mingle together in this delightful film.
There are additional songs that were added to this version and those that were included in the 1945 film are woven into this story a little differently than they were in the older version, yet they are all memorable and delightful and make this film fun, funny, romantic, and musical.
With the isolated music track viewers get a special bonus on this Blu-ray edition. And there are a couple additional featurettes that give viewers a background into the film and the story that has stood the test of time through four productions.
State Fair is not rated but it is suitable for all ages.
About the Author
Francine Brokaw has been covering all aspects of the entertainment industry for over 20 years. She also writes about products and travel. She has been published in national and international newspapers and magazines as well as Internet websites. She has written her own book, Beyond the Red Carpet The World of Entertainment Journalists, from Sourced Media Books.
Follow her on Twitter